How 'Black Panther' and its crowdfunding efforts perfectly emulate the film's message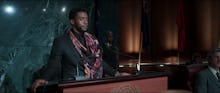 (Editor's note: Spoilers for Black Panther ahead.)
It should be no surprise that one of the most touching moments in Black Panther happens not in Wakanda — the prosperous yet fictional African nation that's rich with resources and advanced technology — but in Oakland, California. Director Ryan Coogler, who was born and raised in Oakland, has said Black Panther is his most personal film to date.
In the film's last scene, King T'Challa (Chadwick Boseman) and his 16-year-old genius sister Shuri (Letitia Wright) stand outside an abandoned building as kids play basketball nearby. The kids' faces light up as a "Bugatti spaceship" lands in the middle of the basketball court. Shuri — who has manufactured the spaceship's intelligence — jumps at the chance to teach them about the technology behind one of the Wakanda flyers.
T'Challa, who has recently helped save Wakanda from Erik Killmonger (Michael B. Jordan), has decided to share his nation's prosperity with other black communities. Killmonger, who is of Wakandan blood but was born and raised in Oakland, had questioned the African nation's decision to hoard its unprecedented riches. If Wakanda's so rich in resources, why not spread the wealth?
The notion of responsibility to the broader black community is threaded throughout the film. At multiple points in the movie, T'Challa's love interest Nakia (Lupita Nyong'o) tries to convince the king he should spread Wakanda's wealth. At long last, he heeds her advice — and Killmonger's challenge — by purchasing the abandoned building and two others nearby with plans to launch the first Wakanda International Outreach Center.
Coincidentally, for the last several weeks, fans of Black Panther have embodied the film's message of giving back to the less fortunate. For proof, look no further than the numerous crowdfunding efforts that have propelled Black Panther's grassroots marketing campaign. Raising money for people to see important movies is nothing new. Crowdfunding for films like Hidden Figures, Wonder Woman and the upcoming A Wrinkle in Time have made waves — not to mention the occasional Chance the Rapper theater buyout.
But Black Panther's crowdfunding efforts have been something special. The most notable crowdfunding efforts have come from the New York City-based marketer Frederick Joseph, who started a fundraiser for kids in the Boys and Girls Club of Harlem to see the film — ultimately raising more than $40,000. The GoFundMe page resulted in a ripple effect, with Joseph launching what he called the #BlackPantherChallenge. Collectively, more than 400 GoFundMe's have raised over $600,000 to send kids across the country into theaters to see the movie.
Similar efforts were taken on by celebrities like Octavia Spencer, Viola Davis, Snoop Dogg and Jemele Hill, as well as activist Zellie Thomas, Little Miss Flint Mari Copeny and school administrators at Ron Clark Academy in Atlanta.
"I knew it would get past $10,000, but I didn't think we'd reach almost half a million," Joseph said in an interview. "I feel like the onus is usually placed on the black community to have to save the world. For me personally, it's important that I do what I can to enrich the community. I also think that people generally should be doing things for other people and helping out where and how they can."
Black Panther star Chadwick Boseman points out that Joseph raised all this money without having seen the film early. "You showed us that you value what the movie is bringing to your communities and you haven't even seen it," Boseman said. "It fulfills the themes of the movie. It's prophetic in that way."
The #BlackPantherChallenge creator has opted to see the flick with the Boys and Girls Club of Harlem kids instead. Joseph knows this is an important film for the kids to see.
"Other movies like Selma or similar biopics are important, but they don't necessarily resonate with 6-year-olds," he said. "There are so many levels of representation in Black Panther. You have aspects of feminism with the Dora Milaje army, and Shuri, who's now the most intelligent person in the Marvel movie universe. And you have T'Challa who saves the world, but is also royalty, a non-toxic male and even has hair like mine. You don't see that often."
These crowdfunding efforts are also a valuable lesson on black philanthropy, according to Valaida Fullwood, the author of Giving Back, a book dedicated to telling the stories of black philanthropy.
"The narrative of mainstream philanthropy is generally slanted toward white benevolence and black people in need, and there's this false perception that black people don't give," Fullwood said in a phone interview.
Fullwood's book has been reimagined as a museum exhibit in places like Atlanta and Columbia, South Carolina. The author interviewed more than 200 black donors about the various ways they give back and wrote about the importance of seeing more than just white philanthropy saving the black community.
"There's this false perception that without the benefit of wealthy white donors, we wouldn't be anywhere," Fullwood said.
Examples of this can even be seen in relation to Black Panther, like this petition demanding that Disney give 25% of the movie's profits back to the black community. Chaz Gormley, who started the petition, argued that because the Walt Disney Company "targeted the black community" in its marketing efforts, some of the money should be poured back into those communities. Fullwood, however, said it is important to see black people giving to themselves — not just money, but time and knowledge, too.
"Given the wealth gap that exists between black people and white people in America, our giving oftentimes is not out of abundance, but out of a connection and responsibility to the community," Fullwood said. "Black philanthropy is what has sustained us for 400 years in America. I believe that's what will sustain us for 400 more."
Feb. 21, 2018, 10:15 a.m.: This story has been updated.