Kratom is a legal drug used by many to treat opioid addiction at home, and the FDA is not having it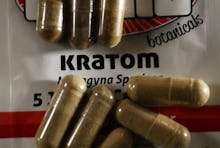 As the opioid crisis endures across the United States, Americans looking to wean themselves off the powerful and often deadly drugs are turning to a legal drug from Asia. But now the Food and Drug Administration is warning against its use, some scientists are worried that the administration's move is inviting a disaster.
Kratom is a fine green powder ground from a leaf that, when swallowed, activates your opioid receptors. For some, it produces a mellow, euphoric body high. It's typically taken in a capsule, with liquid, or just thrown back and swallowed dry. It's legal in the U.S., and is often sold at head shops and corner stores that import it from Southeast Asian countries like Malaysia and Thailand, where it grows as a leaf. It works best on an empty stomach, smells like matcha and tastes more or less disgusting.
Recreational effects aside, kratom is proving useful in helping opioid addicts wean themselves off of the drugs. In Reddit forums and Facebook pages, kratom users have written that they've taken kratom as a replacement for opioids — the way a smoker might chew nicotine gum — slowly replacing their dangerous addiction to heroin or painkillers for kratom's milder, less-lethal buzz.
Nevertheless, the U.S. Food and Drug Administration is cracking down on Kratom, issuing a warning on Feb. 6 that the drug could be deadly if consumed. The FDA said that its worries are "rooted in sound science."
"We have been especially concerned about the use of kratom to treat opioid withdrawal symptoms, as there is no reliable evidence to support the use of kratom as a treatment for opioid use disorder and significant safety issues exist," FDA Commissioner Scott Gottlieb wrote in the statement.
Kratom is potentially deadly, the FDA said. The administration cited 44 deaths related to the drug in the past seven years. Many of those deaths, however, weren't directly linked to using the drug. For example, in one case, a medical examiner found that kratom was mixed with an unknown pill by someone with a long medical history of anti-psychotic use who, upon ingesting kratom, fell out of a window, did not seek medical treatment and subsequently choked on his own vomit during his sleep.
Kratom can be addictive, but not with the same potentially deadly side effects as heroin. A Washington Post analysis of drug testimonials found that kratom users reported fewer negative experiences relative to positive experiences, such as nausea, with kratom, than with heroin, cocaine, alcohol and even marijuana.
The U.S. Drug Enforcement Administration first announced its intention to designate kratom as a "Schedule 1" drug in 2016, putting it on par with how the federal government treads LSD and heroin. But several members of Congress intervened, arguing on behalf of those who'd used kratom to wean themselves off of opiates. In Washington, D.C., protesters held up signs that said "Kratom saves lives."
"Now that probably millions of people in the United States are using it, and many of them are reporting that they're getting off of opiates using kratom, it could create a public health disaster to remove that tool from our arsenal at a time when we have what's being described as an opioid epidemic," Marc Swogger, associate professor in the University of Rochester's Department of Psychiatry, said in an interview.
Swogger and his colleagues recently put out a report looking at the past 57 years of research and writing about kratom. They found that kratom has had harm reduction potential, but Swogger said that a concerted effort to study its effects is still needed.
So, when FDA commissioner Scott Gottlieb said that there's "no reliable evidence to support the use of kratom as a treatment for opioid use disorder," Swogger said that more time and attention could provide that evidence.
"The FDA is making proclamations about kratom use and the harms of kratom without really good science to back it up," he said.