Want to see more diversity in Hollywood? Experts say to spend wisely at the box office.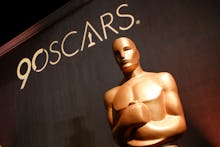 It's no secret Hollywood has a diversity problem. Women and people of color have made some gains in the entertainment industry in recent years, but they're still sorely underrepresented both onscreen and off. During W Hotels' What She Said speaker series kickoff Friday night, acclaimed director Ava DuVernay summarized the problem, calling herself and several of her peers anomalies.
"[Black Panther's] Ryan Coogler is an anomaly, [Moonlight's] Barry Jenkins is an anomaly, [Mudbound's] Dee Rees is an anomaly," DuVernay said. "When you can name us all on two hands, that's not change. ... We sit on top of a broken system. Unless there is systemic change, we're just the sparkly stuff on top that makes people feel good."
To find out what moviegoers who want to advocate for diversity in Hollywood can do to help, Mic reached out to several experts in the entertainment industry.
According to Caroline Heldman, associate professor of politics at Occidental College, those who want to see change in the entertainment industry "actually have to use the greatest leverage [they] have, which is profit."
Back in April, Heldman and more than 100 other leaders from various industries convened at the Women's Media Summit in Provincetown, Massachusetts, to discuss the best ways to tackle gender inequity in media. A white paper published by the group a few months later offers some satisfyingly actionable items, including lobbying policymakers to address persistent gender discrimination in media and increasing litigation against existing gender discriminatory practices.
But for Heldman — a co-author of the white paper who literally wrote the book on consumer activism — your hard-earned cash is the real tool you can use in the fight for increased diversity in entertainment.
"If Hollywood thought that its lack of representation in terms of women and people of color would cost it money, then they would change overnight," she said. "Or, if they thought it would make them money, they would be more inclined to be inclusive."
In 2009, Heldman created GradeMyMovie.com, a website that seeks to empower consumers to vote with their dollars by evaluating films based on their gender and race breakdowns. A film receives an "A" grade if it achieves parity in its top cast and crew positions compared to the general American population — 51% in the case of women and 38% in the case of people of color. Heldman cited the popular recent release Annihilation, which has drawn praise for its majority-female cast, as an example of a film which "actually looks pretty good at a D [in gender] and a C [in race], sadly."
If GradeMyMovie was created under the auspices of making it easier for moviegoers to reject movies that don't measure up to their diversity requirements, Heldman said it's equally important to engage in positive consumer strategies. She recommends "buycotting," or buying tickets to films made by women and people of color, particularly during a picture's opening weekend.
Darnell Hunt, a professor of sociology and African-American studies at UCLA who specializes in diversity in Hollywood, echoed Heldman's advice on the importance of buying smart at the box office. He also stressed the importance of an educated consumer class.
"It's about recognizing the media entities that get it right, the few where they do actually have women and people of color in decision-making positions that have a material impact on what's produced," Hunt said. "It's recognizing those entities and it's calling out the other ones who don't do that. And by possibly boycotting what they make — hitting them in the pocketbook."
Hunt nodded to the early 20th century, when a nascent civil rights movement began leading national campaigns against films that negatively or stereotypically depicted black Americans — like The Birth of a Nation, D.W. Griffith's notoriously bigoted 1915 epic. Those NAACP-led campaigns, Hunt said, should serve as guideposts for modern activists involved with the diversity movements of today.
Anyone hoping to see more films not only starring, but also directed, produced and created by women and people of color, should be comforted by the fact that the successes of recent box-office hits have already begun to turn the tide in Hollywood.
Melissa Silverstein, the founder and publisher of Women and Hollywood, pointed to the forthcoming film adaptation of A Wrinkle in Time, helmed by DuVernay, and 2017's Patty Jenkins-directed Wonder Woman, which shattered records for the best opening weekend for a female director, as recent examples of female-driven films with the potential to inspire more of the same.
"It's about pushing this conversation forward," Silverstein said. "We've been talking about this for a long time, but now there are actually people in powerful positions listening. The way that we're going to see systemic change is if the people in Hollywood, at all levels, understand that there are different narratives out there that can be successful at the box office."
Hollywood's handling of diversity will certainly be under the spotlight during the Oscars on Sunday. Much will be made out of which films take home the night's biggest trophies and whether they're representative of a more inclusive entertainment industry. But even if an Academy Award can buy films and their creative teams coveted clout, box-office dollars are a currency that carry a much heftier weight — the ability to make sure those stories continue to be told in the first place.