Quinn Norton controversy is the latest misstep for the maligned 'New York Times' editorial page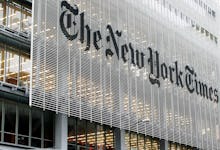 The New York Times' decision to hire — and quickly fire — journalist Quinn Norton from its editorial board is the latest in a string of controversies for the Grey Lady's increasingly maligned opinion pages.
On Tuesday, the paper's announcement that Norton was set to join the paper's editorial board, where she would write about "the power, culture and consequences of technology," was met with swift and intense criticism. Searches of Norton's prior tweets revealed her friendship with a notorious neo-Nazi, along with her previous use of racial epithets and slurs generally used to refer to gay people.
The backlash first centered on tweets in which Norton wrote that Andrew Auernheimer, an internet troll who writes for the neo-Nazi website the Daily Stormer, was an "old friend," and that she had "been friends with various neo-Nazis." Other searches found that Norton had repeatedly used the word "fag," and had retweeted remarks that included racial slurs.
Less than eight hours after announcing Norton's hire, the Times backtracked and said Norton would no longer write for the paper's editorial section.
"Despite our review of Quinn Norton's work and our conversations with her previous employers, this was new information to us," Times editorial page editor James Bennet said in a statement. "Based on it, we've decided to go our separate ways."
Norton defended herself Tuesday night, writing on Twitter that she was "sorry I can't do the work I wanted to do with them."
In a lengthy Twitter thread, Norton said the backlash was due to "context collapse" and claimed the outcry had erased the c­ontext in which she used the slurs. Norton described herself as a "queer activist" and said she used the slurs in the context of conversations with the LGBTQ community. She added that a retweet from the essayist John Perry Barlow, in which she used the word nigger, was sarcastic and an attempt to "slap back at racists."
Norton also said her friendship with Auernheimer, who goes by the nickname "weev," was not predicated on her agreement or approval of his beliefs.
"I don't support weev, that's not given in how I define friendship," she wrote. "I believe white folks should engage with the racists in their life … and I believe all people are redeemable and 'all people' is all people."
In a blog post announcing her hire earlier in the day, Norton said she had "talked candidly" to the Times about her "background," "philosophy" and "approach" to technology coverage.
"I caveated everything with: If this is at all uncomfortable, not what you were looking for, no harm no foul, thanks for the ask. But they kept talking to me," she wrote.
"Ultimately," she wrote on Twitter, "they needed to feel safe with how the net will react to their opinion writers."
The controversy has again shined a negative light on the Times' opinion pages. In recent years, the paper's editorial section, led by Bennett, has been lambasted for everything from running columns that lack appropriate conflict-of-interest disclosures to hiring writers whose opinions were deemed so toxic that customers reportedly canceled their subscriptions.
Bennet took over the editorial pages in March 2016 after previously serving as the Times' Jerusalem bureau chief. Eight months into Bennett's tenure as editorial page editor, the newspaper faced heavy criticism for running a column favorable to Facebook that was written by a media executive whose husband is a close friend and former employee of Facebook's Mark Zuckerberg. It was similarly reamed out in August for running an article by former Blackwater CEO Erik Prince, who advocated for the U.S. to use security contracting companies.
An error in the Times' editorial pages in June was also cause for backlash. A column by the paper's editorial board published in the aftermath of the shooting at a congressional baseball practice incorrectly linked former vice-presidential candidate Sarah Palin to the 2011 shooting of former Rep. Gabby Giffords. The mistake was corrected, but it drew the continued ire of conservatives; Palin unsuccessfully sued the paper for defamation.
The people Bennet has hired for the section have also caused considerable controversy. The April hiring of Bret Stephens, a neoconservative climate change doubter who once wrote that anti-Semitism was a "disease of the Arab mind," was so unacceptable that thousands of readers wrote letters to the editor, with some even canceling their subscriptions. Stephens, who continues to write for the Times, most recently defended accused child molester and Hollywood director Woody Allen in a column published Friday.
Columns written by Bari Weiss, an activist-turned-journalist hired by the Times two days after Stephens, also regularly cause ire. On Monday, Weiss got herself in hot water for tweeting: "Immigrants: they get the job done" while sharing a video clip of Olympic figure skater Mirai Nagasu — an American athlete born in California — landing a triple axel. After people quickly pointed out that Nagasu is not, in fact, an immigrant, Weiss said she was quoting the musical Hamilton and that she was referring to Nagasu's parents. After the backlash continued, Weiss deleted the tweet and posted another in which she declared the criticism she was facing was "another sign of civilization's end."
Weiss's comments about Nagasu prompted internal disgust and anger among Times staffers, who used the incident to talk about the lack of diversity at the paper, HuffPost's Ashley Feinberg reported Wednesday.
Bennet has expressed in interviews that his objective for the Times' editorial page is to "have a really wide range of voices." His goal, he said, is to bring on contrarian voices to encourage "collegial combat." Some defenders of the Times have said readers are just fuming over opinions with which they don't agree.
But much of the criticism lies instead with Bennet's claim that a "wide range" of voices are being represented in the editorial section.
"Literally every one of the [columnists] fits squarely within the narrow, establishment, center-right to center-left range of opinion that prevails in elite opinion-making circles," wrote journalist Glenn Greenwald. Splinter News media reporter Dave Uberti similarly pointed out the lack of diversity on the Times' editorial team, noting there are more "white men named David" on the editorial team then there are women of color.
"Taken together, their output stretches from the tired orthodoxy of Clintonian Democrats to never-Trump conservatism," Uberti wrote.
Norton was "not the safe-centrist, establishment type" that makes up most of the Times' editorial page roster, as New York magazine's Brian Feldman pointed out in a column Wednesday. On the other hand, Norton's spotted history tapped into a number of long-running criticisms of the Times. Her friendship with white supremacists, for example, seemed tailor-made to further enrage Times readers who expressed disgust at a November article about a Nazi sympathizer.
It's unclear which previous statements of Norton's were the reasons for her firing. A Times spokesperson did not respond Mic's request for comment.