17 killed, a dozen wounded in Florida high school shooting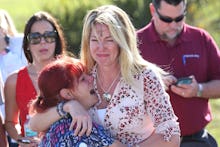 Nikolas Cruz, 19, has been identified as the suspected shooter who killed 17 and wounded at least a dozen others at a Florida high school Wednesday, according to Broward County Sheriff Scott Israel.
"It's a horrific, horrific day," Israel said in a press briefing Wednesday evening.
Both students and adults were among those killed at Marjory Stoneman Douglas High School in Parkland, Florida, where Cruz had once been a student, according to Israel.
He had apparently been "expelled for disciplinary reasons," according to Israel, who suggested that authorities had already found "very disturbing" material in the alleged shooter's online history. The Miami Herald reported Wednesday that the former student may have once been flagged as a potential threat to other students.
Cruz began shooting outside the school before moving inside, Israel told reporters. He had an AR-15-style weapon and multiple magazines of ammunition.
The former student was located off campus and taken into custody "without incident," Israel told reporters earlier in the afternoon.
Twelve of the dead were killed inside the school and three were found outside, according to Israel. Two died at the hospital.
An additional twelve were wounded and transported to area hospitals. According to Israel, some are undergoing surgery.
Sen. Bill Nelson (D-Fla.) said on CNN Wednesday afternoon that it was a "bad day for Florida and for the country.
"We ought to say enough is enough," he said.
Robert Runcie, the superintendent of Broward County Public Schools, told reporters outside the school Wednesday afternoon that a school official may have been among those shot. He said that he was not aware of any warnings ahead of the shooting, but that there would be a thorough investigation.
"It's a day that you pray every day ... you will never have to see," Runcie told reporters.
President Donald Trump has been briefed on the situation and offered his "prayers and condolences" to those impacted.
"No child, teacher or anyone else should ever feel unsafe in an American school," Trump tweeted.
Feb. 15, 2018, 9:27 a.m.: This story has been updated to reflect the correct spelling of the shooter's name, as released by the Broward County Sheriff.
Correction: Feb. 14, 2018