Trump seemingly blames students at Florida high school for being victims of mass shooting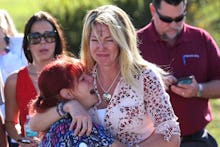 President Donald Trump on Thursday seemingly blamed the classmates and neighbors of 19-year-old suspected gunman Nikolas Cruz for the shooting at Marjory Stoneman Douglas High School in Parkland, Florida, saying they should have reported Cruz to the authorities.
"So many signs that the Florida shooter was mentally disturbed, even expelled from school for bad and erratic behavior," Trump tweeted, inexplicably threading the message to a two-day-old tweet about immigration reform. "Neighbors and classmates knew he was a big problem. Must always report such instances to authorities, again and again!"
The problem? Cruz had been reported to the authorities — multiple times.
The police had been called to Cruz's home multiple times, BuzzFeed reported.
The FBI also received a tip about Cruz after he posted a comment about becoming a "professional school shooter" on a YouTube video, according to BuzzFeed.
Even more, Trump signed legislation last year that would make it easier for the mentally ill — as he described Cruz — to buy guns.
Not mentioned in Trump's tweet was the fact that Cruz was able to get his hands on an AR-15-style weapon and multiple magazines of ammunition, allegedly allowing him to kill at least 17 — a toll that could rise as multiple others are hospitalized.
Feb. 23, 2018, 1:10 p.m.: This story has been updated.