The best FROWs (aka front rows) of New York Fashion Week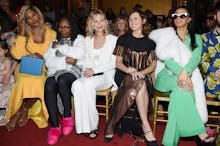 With New York Fashion Week now said and done, it's time to reflect on one the more enjoyable parts of NYFW coverage: the front rows, or the FROWs, as they're sometimes called.
What makes a good front row? There is no one formula, but one we quite like is a certain level of celebrity power and fame mixed with unpredictability — like a comedian next to a rapper next to an iconic actress. Or, the most powerful woman in fashion sitting next to one of the most powerful women in rap.
Not all shows have this, but enough did this season that we wanted to bring them to your attention. Please enjoy these groups of random but wonderful people.
Christian Siriano
Christian Siriano's front rows have a set reputation of being great. Remember when Saturday Night Live cast member Leslie Jones hollered and cheered during Siriano's runway in 2017? Perfection.
In 2018, he had Whoopi Goldberg, Meg Ryan and Molly Shannon butted up right next to Cardi B, who was wearing a bright green suit with a white fur stole, and Nastia Liukin, the former Olympic gymnast.
Magic.
Calvin Klein
Calvin Klein's front row fully charmed us. Sitting all together, one after another, were actors Sebastian Stan, Margot Robbie, Nicole Kidman, Laura Dern and Kyle MacLachlan.
Just look at them.
Alexander Wang
A prime example of a front row that really was unpredictable: the Alexander Wang show, where Vogue creative director at large Grace Coddington and Vogue editor-in-chief Anna Wintour snuggled right up next to Cardi B, who seemed quite happy about that.
Jeremy Scott
Maybe all it takes to make a front row go from good to great is a little Cardi B.
At the Jeremy Scott show, Cardi was joined front row by model Shaun Ross, DJ Steve Aoki, musician Kehlani and actors Jasmine Sanders and Serayah McNeill.
Prabal Gurung
Let's just run through who was sitting in the front row of Prabal Gurung's show, in order: Janet Mock; Tarana Burke, the founder of #MeToo; Huma Abedin, famed Hillary Clinton aide; Laverne Cox; Cardi B; and Offset.
Remake Oceans 11 with these people, too.
Michael Kors
Since he's dressed pretty much every celebrity in Hollywood right now, of course Michael Kors' front row would be quality. We were particularly big fans of this lineup: stylist Law Roach, Zendaya, Black Lively (in a great red leather coat) and Emily Blunt, who seems just lovely.