Fundamental Reading: On 'RuPaul's Drag Race All Stars 3' episode 4, Trixie fell into her old habits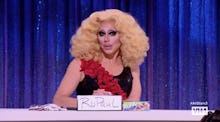 Hello, my sweet, tender strawberries. It's time, once again, to chat about RuPaul's Drag Race All Stars 3.
In episode four, the most crucial arc centered around Trixie Mattel and her inability to deliver the goods in Snatch Game, a challenge she should've confidently crushed. Really, her performance in Thursday's episode, but also in All Stars 3 overall so far, illustrated something larger: Despite Drag Race playing a huge role in Trixie's newfound fame, she hasn't ever really done all that well on the show itself. This is something Trixie herself has always been more than willing to joke about, on Twitter the night of Thursday night's episode included.
In Trixie's native season seven, she never quite flourished. She was eliminated in episode four and eventually won her way back into the competition later in the season, but lasted just one full episode before getting eliminated yet again.
It wasn't until after the season ended that Trixie's identity as a surrealist, quick-witted jester in Barbie's clothes really solidified, almost entirely thanks to her performances on the web series UNHhhh with All Stars 2 alum Katya. And when UNHhhh found its second life as The Trixie and Katya Show on Viceland, it became clear that her career outside the confines of Drag Race was gaining serious momentum. Therefore, when Trixie was announced as one of the competitors on All Stars 3, her fans thought this new, confident Trixie would steamroll the competition.
But that has not been the case in the first few episodes of the season. Trixie has done fine enough (aside from her face-to-cam confessional segments, which are consistently great), never sagging at the back of the pack nor winning any challenges. That is, until episode four, in which her Snatch Game performance as RuPaul herself earned her a spot in the bottom three alongside Kennedy Davenport and Chi Chi DeVayne.
Trixie's impersonation wasn't bad, per sé, but she simply lacked the flexibility to riff with Ru and the other girls on the fly. Compared to BenDeLaCreme, who mined every interaction — like saying she didn't recognize judge Carson Kressley's leather gloves "without the Crisco" — it was as though Trixie went into the challenge white-knuckling a handwritten list of jokes, unwilling to deviate from the plan when curveballs came her way.
Then again, maybe it was just a bad character choice that let her down. Her RuPaul impersonations on UNHhhh rely on the audience imagining Ru delivering these facepalm-worthy, punny critiques to a competitor on Drag Race. But when Trixie is sitting right there on the Snatch Game panel in full costume, that gap for imagination isn't there and the jokes don't land in quite the same way. She also occasionally set up a great joke — "Your Miss Jones was not graceful," to BeBe as Grace Jones — but left the punchline on the table. That ominous, woodblock-falling-down-a-flight-of-stairs sound effect edited in after a few of her jokes didn't help, either. (I've been thinking about a punchline to Trixie's joke, by the way, and the best I can come up with is, "But your performance on the runway helped Jamaica big difference. You're safe." I'm still workshopping it.)
Strangely enough, Trixie's arc in this episode strongly mirrored the narrative around Katya's self-conscious, anxiety-ridden performance on season seven. Ultimately, Katya was able to return to the Drag Race stage in All Stars 2 much more confidently, turning herself around and making it into the top three. Trixie, however, hasn't had the same fortune. After her critiques in Thursday's episode, she began crying on-stage.
"I'm disappointed," she said in a face-to-cam after the judging. "I thought I was going to win this challenge and instead I absolutely face-planted in front of the person I'm impersonating, so it's worst-case scenario."
RuPaul ultimately decided that both BenDeLaCreme — who's continuing to nail her competition to the wall, week after week — and Shangela won the lip sync, giving them each the power to send a bottom queen home. Since they both chose Chi Chi, she was the only one who went home. Though, it's clear Shangela enjoyed toying with Trixie and making it seem like she was going to send her home before letting her off the hook.
Perhaps having her back to the cliff's edge this week will give Trixie the inspiration she so desperately needs to be the superstar her fans know her to be. She's not far off; her runway looks, in my opinion, have been consistently stellar. But given the utter dominance of Shangela and BenDeLaCreme, Trixie's Drag Race herstory might simply be doomed to repeat itself.
We'll find out next week.
Bonus fun fact: Did you notice Carson Kressley's blazer during Snatch Game?
In this week's episode, judge Carson Kressley's blazer during Snatch Game was an ode to Drag Race herstory.
Alyssa Edwards wore the very same, infamously garish blazer in All Stars 2, according to /r/RuPaulsDragRace poster droosy. It was — maybe is? — available for sale at Kohl's, according to redditor lllbt.