Official: Alleged Parkland shooter has "no known ties" to Florida white supremacist group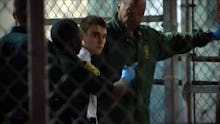 Feb. 23, 2018, 12:17 p.m.: Since the publication of this story, the Associated Press reported a law enforcement official said he knows of "no known ties" between alleged Parkland shooter Nikolas Cruz and the Republic of Florida. The Anti-Defamation League, which originally reported the connection, has said it has since learned that "a member of an alt-right discussion forum wrote that all of the claims were false and were part of an elaborate attempt to troll a network news reporter[s] and other media outlets." Mic's original story appears below.
Nikolas Cruz — the 19-year-old who allegedly killed 17 and wounded more than a dozen others at Marjory Stoneman Douglas High School on Wednesday — has ties to a Florida white supremacist group, a spokesperson for the organization confirmed Thursday.
Cruz — a former student of the Parkland, Florida, high school — was associated with the Republic of Florida, which calls itself a "white civil rights organization fighting for white identitarian politics" and is pushing for a "white ethnostate" in Florida, according to the Anti-Defamation League.
The ROF spokesperson told the ADL that the group had not ordered Cruz to commit the school shooting.
Cruz, who had been expelled from the school, has been charged with 17 counts of premeditated murder and is currently in custody without bond.
The victims' families have all been notified, Broward County Sheriff Scott Israel said in a press conference Thursday morning, and their identities will be released soon.
One person confirmed dead was Aaron Feis, an assistant football coach and security guard at the school who was reportedly shot and killed while shielding students from Cruz.
Israel said that he personally knew the "hero" coach and had sons who played football for him.
"The kids in this community loved him. They adored him," Israel told reporters. "He was one of the greatest people I knew. He was a phenomenal man."
At the press conference Thursday morning, Israel and other public officials called for action to be taken in response to the shooting.
Cruz, who had been expelled from the school for "disciplinary reasons" and transferred to a different school in the county, reportedly purchased the AR-15 he used to allegedly kill his former classmates legally.
He may also have written a comment on YouTube in 2017 saying that he was "going to be a professional school shooter," Robert Lasky, the FBI special agent in charge of the case, suggested at the press conference Thursday.
Gov. Rick Scott, speaking to reporters, said he would be sitting down with state leaders soon to discuss ways to ensure "that individuals with mental illness do not touch a gun."
"We need to have a real conversation so we have public safety for our schools in this state," the Republican said.
Robert Runcie, the superintendent of Broward County Public Schools, told reporters that he has seen students calling for gun control in the wake of the shooting.
"Now is the time for this country to have a real conversation on sensible gun control laws in this country," Runcie said. "Our students are asking for that conversation. And I hope we can get it done in this generation, but if we don't, they will."
But President Donald Trump, who has received millions of dollars from the powerful National Rifle Association, said Thursday that the shooting demonstrated the need to "tackle the difficult issue of mental health," but did not address gun control.
"Making our schools and our children safer will be our top priority," Trump said in an address. "It is not enough to simply take actions that make us feel like we are making a difference. We must actually make that difference."
Several students of the Parkland high school have apparently slammed Trump and other lawmakers who have received NRA funding over their responses to the tragedy.
According to Israel, authorities would soon be releasing a timeline of the shooting.
He said his office began working with the FBI Thursday morning and that law enforcement would be doing "everything we can" to ensure that Cruz is "convicted of all charges and that justice is served."
"This community is hurting right now," Israel said.
He did not discuss a motive, but left open the "possibility" that the alleged shooter had specific targets.
Former classmates of Cruz painted a portrait of the alleged killer as a "troubled kid" who frequently showed off his weapons.
"A lot of people were saying that it would be him," a student told Miami's WFOR-TV. "They would say he would be the one to shoot up the school. Everyone predicted it."
It's not clear when exactly Cruz was expelled from the school, but a student who was in the school at the time of the shooting told the Sun Sentinel that she had seen him "around school last year."
She remembered him as an "off kid" who would "smile weirdly, make weird comments."
Israel said that there had been several copycat threats at other schools Thursday morning and warned that anyone who calls in such a threat would be brought to justice.
"We will respond in full and investigate it," Israel said.
A GoFundMe account has been created for those impacted by the shooting. Florida attorney general Pam Bondi said that the state would be helping victims pay for funeral and medical costs.
Israel — who said it was a "pretty good assumption" that Cruz is mentally ill — called for measures that would allow law enforcement to bring high-risk individuals before mental health professionals against their will for evaluation.
"People are going to be rightfully concerned about their rights, and so am I," Israel said. "But what about the rights of these students?"
He also said that he would be "very animated about what I think this country can do to prevent these tragedies in the future" — and indicated that he believes those with mental illness should not have access to weapons.
Correction: Feb. 23, 2018