Donald Trump doesn't use the word "gun" in speech after deadly Florida school shooting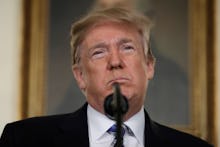 On Thursday morning, President Donald Trump delivered a message of healing to the nation in the wake of a deadly school shooting in Parkland, Florida, that left 17 dead and at least 14 others injured.
However, missing from Trump's speech calling for prayers and unity was any mention of guns or gun control. Instead, Trump briefly brought up the need to address mental health issues in the U.S., and ignored a shouted question from a reporter at the end of his address about whether he plans to do anything about guns, and why gun violence keeps occurring across the country.
Instead of blaming the shooting on guns, Trump brought up the need to "tackle the difficult issue of mental health."
"Making our schools and our children safer will be our top priority," Trump said. "It is not enough to simply take actions that make us feel like we are making a difference. We must actually make that difference."
The president, however, gave no concrete specifics about how the issue of mental health should be addressed. Students who survived the shooting at Marjory Stoneman Douglas High School, meanwhile, have gone on national news to call for gun control.
"The fact that this is the 18th school shooting, and this is only February ... there's something seriously wrong here," David Hogg, a student who survived the shooting, told CNN. "And some of our policymakers ... they need to look in the mirror and take some action because ideas are great, but without action ideas stay ideas and children die."