Trump threatens to veto bipartisan DACA compromise bill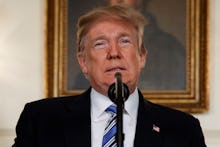 President Donald Trump on Thursday threatened to veto a bipartisan bill that would provide protections to roughly 2 million undocumented immigrants brought to the U.S. as minors, as well as devote $25 billion for border security and prevent current green card holders from sponsoring adult children to come to the U.S., among other things.
The White House says the bill — crafted by Senate Minority Leader Chuck Schumer (D-N.Y) and GOP Sens. Susan Collins of Maine and Mike Rounds of South Dakota — would "drastically change our national immigration policy for the worse," claiming it would lead to an influx in new undocumented immigrants coming to the U.S.
"The administration cannot support the Schumer-Rounds-Collins Amendment because it is not only dangerous policy that will harm the nation, but it also fails to deliver on the clear promise the administration has made to the American people," White House press secretary Sarah Huckabee Sanders said in a statement. "If the president were presented with an enrolled bill that includes the amendment, his advisors would recommend that he veto it."
The veto threat is a far cry from Trump's January promise to sign whatever bill that addresses the Deferred Action for Childhood Arrivals program that Congress put on his desk.
"And, Chuck, I will say, when this group comes back — hopefully with an agreement — this group and others from the Senate, from the House, comes back with an agreement, I'm signing it," Trump said in a bipartisan meeting of House and Senate lawmakers on Jan. 9. "I mean, I will be signing it. I'm not going to say, 'Oh, gee, I want this or I want that.' I'll be signing it, because I have a lot of confidence in the people in this room that they're going to come up with something really good. 
Trump's threat to veto the bill is a bad sign for a DACA deal.
The current Senate plan the Trump administration supports is unlikely to get the 60 votes needed to advance, and may not even get 50 votes to secure passage.
Senate Majority Leader Mitch McConnell also indicated that if the Senate didn't come to an immigration compromise this week, the debate was over and the Senate would move on.
"I've lived up to my commitment," McConnell said on the Senate floor of allowing for an immigration debate. "I hope everyone will cooperate so this opportunity does not go to waste."
In the meantime, it's unclear what will happen to the roughly 800,000 undocumented immigrants currently allowed to live and work in the U.S. thanks to DACA.
Two federal judges have blocked Trump's March 5 end date for the program, ruling that the date was arbitrary.
The Trump administration has appealed one of those rulings, and the Supreme Court on Friday is set to consider whether to hear the appeal.