Will Washington act after the latest mass shooting? Probably not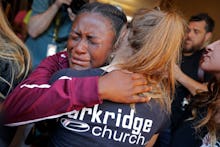 Welcome to Mic's daily read on Donald Trump's America. Want to receive this as a daily email in your inbox? Subscribe here.
Thursday's dispatch: Will Congress do something? The past suggests not.
Nearly 24 hours after the shooting began in Parkland, Florida, reactions across Washington, D.C., were mixed as to whether Congress has done enough to prevent such mass shootings. The mass shooting killed 17 people and left several others injured — some critically.
House Speaker Paul Ryan (R-Wis.) repeatedly directed reporters at a press conference Thursday morning to legislation passed by the House that has yet to move through the Senate, addressesing loopholes that allow Americans with mental illness to buy guns.
"We want to make sure if someone is in the mental health system, they don't get a gun," Ryan said. "If there's someone who's not supposed to get a gun who's getting a gun, we need to fix that. That's a piece of legislation we already passed that's sitting in the Senate."
But that legislation, which would improve the national background system for gun purchases, is lingering in the Senate because House Republicans tied it to a provision that allows concealed carry gun owners to move their firearms across state lines. That's a nonstarter for Senate Democrats, whose votes are needed to pass the bill.
Ryan faced immediate pressure after the shooting on the issue of mental health and Americans' gun access. Florida Republican Gov. Rick Scott told Ryan and Floridians he would work to prevent the mentally ill from buying guns.
President Donald Trump, in an address to the nation Thursday morning, said he would immediately pursue proposals tied to mental health and improving safety at schools. Trump's tweet Thursday morning seemingly suggested classmates of Nikolas Cruz, the suspected gunman in Florida, should have reported him to authorities. They, in fact, did. The FBI was warned about him in September.
"We are committed to working with state and local leaders to help secure our schools and tackle the difficult issue of mental health," Trump said. He did not use the word "gun" in his speech following the shooting.
Trump, Ryan and the GOP face a credibility issue on addressing mental health, however, because they reversed an Obama-era law that made it more difficult for people with a mental illness to purchase guns. Experts are also far from sure mental illness can be a predictor of violence, let alone planning a mass shooting. In fact, studies have shown people who are diagnosed as mentally ill are underrepresented among mass shooters.
Democrats raised their usual call that follows mass shootings for Congress to take up bipartisan, comprehensive background check legislation. Some called for bans on military assault-style firearms. The gunman used an AR-15, a semi-automatic rifle based on the automatic military issue M16, in the shooting. The AR-15 has been used in other recent mass shootings, including in Las Vegas in October and Sutherland Springs, Texas, in November.
Ryan and Senate Majority Leader Mitch McConnell (R-Ky.) have so far committed to no new votes or legislation related to gun violence or mass shootings. Ryan told reporters Thursday that more facts needed to come out before Congress considered further action on mental health or other issues.
There's little precedent to suggest Congress will take serious action. After a shooter in Las Vegas modified an AR-15 with a bump stock to make his gun fire automatically, Congress said it would take up legislation to ban bump stocks. Four months later, that legislation has gone nowhere.
Today's question: Do you think this shooting will be different for Congress?
Please email us at trumpsamerica@mic.com with your thoughts.
Thursday in Trump's America:
Beyond one of the deadliest shootings in U.S. history:
The Rob Porter scandal: House Republicans launched an investigation into who at the White House knew what and when about former staff secretary Rob Porter, who was fired after public allegations that he committed domestic abuse against his former wives surfaced. The controversy centers on the White House's knowledge of an FBI investigation into whether Porter should have been granted security clearance. That investigation was completed in July. Meanwhile, a third White House official resigned Wednesday after it was revealed he would not qualify for a clearance.
Trump on Wednesday said he is "totally opposed" to domestic violence, following a week of questions about what Trump and his staff knew about allegations against Porter.
Chief of staff shuffle: Confidence in White House chief of staff John Kelly is near its lowest ever, the Associated Press reported. Press secretary Sarah Huckabee Sanders reportedly wants Kelly to face reporters to answer questions about the Porter scandal.
Ethics: The chief of staff to Veterans Affairs secretary David Shulkin apparently doctored an email to justify using taxpayer funds to pay for Shulkin's wife traveling in Europe.
Mitt Romney: The 2012 GOP presidential nominee was expected to announce Thursday he is running for a Utah Senate seat.
Immigration: The White House blasted a bipartisan immigration proposal that might have been able to win 60 votes in the U.S. Senate — though it certainly faced long odds from the moment it was introduced. The proposal would have also struggled to pass the House.
Senators are taking what may be their last stab on Thursday at passing legislation to offer a permanent fix to the Deferred Action for Childhood Arrivals program. And if the compromise legislation passes, it may have no chance of getting by Trump — who is actively undermining it.
Military parades: The White House budget director said a military parade in Washington would cost between $10 million and $30 million. Trump has directly asked military officials to plan such an event.
Trump gas tax? Trump reportedly would support a 25-cent gas tax to pay for his infrastructure plan.
Correction: Feb. 15, 2018
A previous version of this article misstated Nikolas Cruz's role in the shooting on Wednesday. He is the suspected shooter.