This 'Black Panther'-inspired popcorn recipe will transport you straight to Wakanda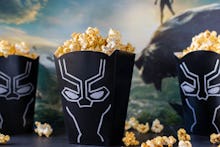 Going to see Black Panther this weekend? The highly anticipated superhero movie is set in the world of Wakanda, a fictional, technologically advanced African nation where sci-fi and black culture are on powerful display.
For this groundbreaking film, regular buttered popcorn just doesn't cut it. At Alamo Drafthouse, a chain of movie theaters that serves food during film screenings, chef Brad Sorenson dreamed up a menu inspired by the movie. Since fictional Wakanda is described as being located in northeastern Africa, close to Ethiopia, Kenya and Somalia, Sorenson used Ethiopian flavors, including berbere spice and niter kibbeh, in Alamo Drafthouse favorites like popcorn, wings and breadsticks. (In an email, a spokesperson noted that the menu is available in all Alamo Drafthouse locations except for the theaters in Chandler, Arizona, and Springfield, Missouri.)
Berbere is said to have originated in Ethiopia around 5 BCE, when Ethiopians had access to spices from China. The spice blend consists of paprika, ground ginger, onion powder, dried chile and more, resulting in a complex flavor that's simultaneously sweet, spicy and earthy. The spice mix is often used in wats, Ethiopian stews featuring meats, vegetables and lentils. Niter kibbeh is a spiced clarified butter that adds depth to vegetable or meat-based stews.
If you can't catch Black Panther at an Alamo Drafthouse, you could always smuggle in your own themed snack. The food bloggers behind Geeks Who Eat created their own super simple version of berbere-spiced popcorn. (To truly level up the experience, you'll want to make their Black Panther-inspired popcorn containers, too.)
This recipe was originally published on Geeks Who Eat and is reprinted with permission below.
Berbere-spiced popcorn
Prep time: 3 minutes
Ingredients
6 cups popcorn
Preparation
1. Make popcorn using preferred method. (In the microwave or on a stovetop.)
2. Coat popcorn with cooking spray or melted butter. Sprinkle berbere seasoning over popcorn and toss until evenly coated.