Who's Sorry This Week? A roundup of the biggest — and strangest — apologies in entertainment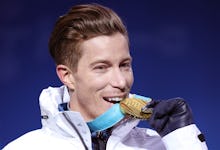 The pace at which celebrities, companies and other public entities make apologies for bad behavior is staggering these days. In fact, it happens so often that the public apology has become an art in and of itself, an all-too-familiar ritual meant to minimize damage, regardless of how genuine it actually is.
Hence the need for this roundup. Just a quick note: This week's apologies in the entertainment world are particularly Olympics-heavy, since the 2018 Winter Olympics are in full swing.
Let's begin.
Peter Rabbit filmmakers are sorry for making light of food allergies
Early in the week, we got an apology from the filmmakers behind the new Peter Rabbit movie — a Home Alone-style slapstick romp in which a group of rabbits clash with the new, rabbit-hating human in town, Tom McGregor (played by Domhnall Gleeson).
In one scene, the rabbits use their knowledge of McGregor's blackberry allergy against him by literally attacking him with blackberries. One of them goes into McGregor's open mouth, causing him to go into anaphylactic shock. Luckily, he stabs himself with an EpiPen. This "disturbing" scene prompted the Kids With Food Allergies Foundation to post an open letter to Sony Pictures on Facebook and Twitter.
"The very real fear and anxiety that people experience during an allergic reaction (often referred to as an impending sense of doom) is a serious matter," the foundation wrote. "Making light of this condition hurts our members because it encourages the public not to take the risk of allergic reactions seriously, and this cavalier attitude may make them act in ways that could put an allergic person in danger."
Sony Pictures responded Monday, saying it should not have turned the seriousness of food allergies into a punchline.
"Our film should not have made light of Peter Rabbit's archnemesis, Mr. McGregor, being allergic to blackberries, even in a cartoonish, slapstick way," the statement said, according to Deadline. "We sincerely regret not being more aware and sensitive to this issue, and we truly apologize."
Interestingly enough, it seems as though one of Peter Rabbit's screenwriters anticipated this kerfuffle a long time ago. In a scene before the blackberry incident in question, Peter's cousin nervously says that "allergies are serious" and that he doesn't want "to get any letters," according to the New Yorker.
Katie Couric is sorry for implying the Dutch use ice skating as a mode of transportation
During the opening ceremony for the Winter Olympics, NBC's Katie Couric suggested the Dutch people are so good at ice skating because they use it as a major mode of transportation.
"Skating is an important mode of transportation in a city like Amsterdam, which sits at sea level," she said on air, according to the Guardian. "As you all know, it has lots of canals that can freeze in the winters. So, for as long as those canals have existed, the Dutch have skated on them to get from place to place, to race each other and also to have fun."
This is apparently a relatively common misconception, but it is nevertheless untrue. Over the weekend, Couric endured a maelstrom of mockery on social media, including a jab from the Netherlands embassy itself.
Couric apologized for the mix-up Monday.
A Chicago news station is sorry for implying P.F. Chang's was hosting the Winter Olympics
The day after Couric's slip-up, the local Chicago ABC affiliate WLS-Ch.7 used an Olympic-themed graphic in a live broadcast. In a more just world, the graphic would have simply read "Pyeongchang 2018" — perhaps with an image of some Olympic rings, or maybe a pair of ice skates — in reference to the South Korean county of Pyeongchang, which is hosting the Winter Olympics.
Instead, it said "P.F. Chang 2018." In case you're unaware, P.F. Chang's is not a county in South Korea, but the name of a contemporary Asian chain restaurant.
A spokesperson for the ABC affiliate apologized Tuesday, saying the graphic was originally intended for use in a "satirical piece" in which "viewers were encouraged to invent their own Olympic sports," according to the Chicago Tribune.
Olympian Shaun White is sorry for calling sexual misconduct allegations against him "gossip"
The Olympics are often thought of as a time for idealistic escapism, in which people from disparate countries can come together and engage in a little friendly competition. However, they often have a way of throwing our world's harsh realities into even sharper focus.
That's been the case for years, whether in regard to severe infrastructural issues surrounding the 2014 Games in Brazil or the alleged systemic issues within USA Gymnastics that led to dozens of gymnasts to accuse former team doctor Larry Nassar of sexual misconduct. The most recent example of this idealism/realism dichotomy occurred Wednesday, when Olympic snowboarder Shaun White won his third gold medal in the men's halfpipe event. In an interview with reporters, White shrugged off questions about a now-settled sexual harassment lawsuit filed against him in 2016, characterizing it as "gossip."
The suit, filed by Lena Zawaideh, a former drummer in White's rock band, alleged White "repeatedly sexually harassed [Zawaideh] and forced his authoritarian management style on her for over seven years," according to the Daily Beast. The suit also claimed the Olympian "sent sexually explicit and graphic images to Zawaideh of engorged and erect penises, forced her to watch sexually disturbing videos, including videos sexualizing human fecal matter and made vulgar sexual remarks to her such as, 'Don't forget to suck his balls!' when commenting on her boyfriend."
In May, USA Today reported that White had settled the lawsuit for an undisclosed amount of money.
After coming under fire for downplaying the lawsuit in interviews with reporters after his medal win, White apologized.
"I regret my behavior of many years ago and am sorry that I made anyone —particularly someone I considered a friend — uncomfortable," White said in a statement provided to the New York Times. "I have grown and changed as a person, as we all grow and change, and am proud of who I am today."