Republicans say mental health care prevents mass shootings. They've tried to gut mental health care.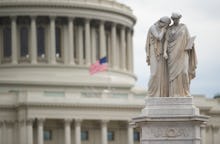 Want to receive this as a daily email about how the president is changing America? Subscribe here.
Friday's dispatch: The recent GOP track record on mental health
Accept for a moment that a measurement of mental health can predict or prevent a mass shooting. (There's ample evidence to suggest it would not. Violent thoughts or a history of violence and abuse are much better predictors.) Since President Donald Trump took office, mental health advocates say Republicans have done little — and less than recent administrations — to improve America's mental health.
The shooting deaths of 17 people at a Florida high school once again brought calls for thoughts and prayers by the president and Republicans, who control all the levers of power in Washington. Trump and members of his party on Thursday also called for investments in mental health treatment. Both Trump and House Speaker Paul Ryan (R-Wis.) cited improvements to mental health care as a way to prevent future mass shootings.
Trump did recently request $10 billion to fight opioid addiction and mental health treatment. But no major mental health legislation has been championed by Trump nor passed by Congress since he took office. In fact, GOP efforts to end Medicaid expansion and mental health treatment guaranteed through the Affordable Care Act have reversed, advocates say.
"We seem to be taking steps backwards, more steps backwards than forwards," Paul Gionfriddo, president of Mental Health America, a network of more than 200 affiliate mental health providers, said in an interview.
The end of the George W. Bush administration brought the passage of the Mental Health Parity and Addiction Equity Act in 2008. The law mandates health insurers provide the same level of coverage for mental health treatment that they would for medical or surgical procedures. The ACA guaranteed mental health treatment as an "essential health benefit" that all insurance plans have to provide. And the 21st Century Cures Act further strengthened in 2016 requirements of parity for mental health coverage and invested in hiring more psychiatrists and psychologists nationwide.
Those laws delivered eight years of landmark advances for the mental health community, Gionfriddo said. That would be difficult for Trump to top — but the administration's actions show a reversal.
Attempts by the GOP to gut the ACA consistently drew condemnation from mental health groups. Their concerns were mammoth — 40% of recipients of Medicaid expansion under the Affordable Care Act, for example, have mental health issues, Gionfriddo said. Florida, which did not expand Medicaid, lost out on $20 billion that would likely have directly benefited the health care of thousands of Floridians with mental health issues. And allowing insurance policies free of essential health benefits to again be sold created concerns that the mentally ill would return to using emergency rooms for treatment.
Nationwide, 1 in 5 Americans have a mental illness, while 1 in 25 have a mental health issue that limits part of their life. Despite those numbers, after each mass shooting, mental health experts stress the vast majority of people with mental illness will never experience a violent thought. If they do, it is much more likely to be thinking about committing suicide than harming others.
On the guns and mental health front, the GOP has been accused of playing politics. Rep. Mike Thompson (D-Calif.), chairman of the Gun Violence Prevention Taskforce in Congress, blasted House Republicans in December for passing a bill that would make it more difficult for a mentally ill person to buy a gun — while expanding concealed carry rights. The latter provision has forced the legislation to languish in the Senate without Democratic support.
Meanwhile, Trump faced widespread criticism shortly after taking office for signing a bill that prevented the Social Security Administration from reporting the names of mentally ill Americans to the federal gun background check system.
Other policies have flown more under the radar. In September, the administration froze a website mental health professionals used to find effective interventions to prevent or treat illness. In January, the federal agency overseeing the database claimed it is improving the system used by thousands of health care providers since 1997.
In the 2017 budget, Trump proposed cutting federal mental health grants to states by more than $100 million, or 23%. The budget request released by the president on Feb. 5 would increase, on net, federal funding to fight the opioid crisis and increase mental health treatment by more than $550 million. However, the National Institute of Mental Health would see a 30% reduction in funding in 2019 — a cut of nearly half a billion dollars.
Regardless of where this year's spending on mental health lands, the U.S. will still spend far less than it used to on treatment. Beginning in the 1840s, the U.S. began building state psychiatric hospitals. By the 1950s, 32 state psychiatric hospitals housed more than half a million people. The U.S. moved in the 1960s toward building community health centers. That deinstitutionalized nearly all mentally ill Americans and slowly led to a drop in government investment in mental health care.
Mental health advocates don't want a return to the days of institutions — far from it. But they decry a decades long decline in investment from state governments and Washington in mental health treatment. Mental health screenings should be commonplace, as they are for wisdom teeth in teenagers or breast cancer in women, advocates say.
Access to affordable, widespread mental health care — free of stigma — should be standard in America, said Susan Mizner, director of the disability rights program at the American Civil Liberties Union. Right now, it's far from easily accessible for most Americans, she added.
"We have had decades of cuts in mental health treatment," Mizner said in an interview. "We need to get to a level of being able to meet the need."
Today's question: Is there adequate access to mental health treatment in your community?
Please email us at trumpsamerica@mic.com with your thoughts.
Friday in Trump's America:
Immigration collapse: The Senate was considered the best hope for passage of a bipartisan immigration bill that could win Trump's signature and protect Deferred Action for Childhood Arrivals recipients. All the immigration bills that came before the Senate on Thursday failed to draw 60 votes.
The House will now consider immigration legislation. But House Republicans are expected to pursue a conservative bill that Senate Democrats will not support. The impasse has yet to show signs of improving.
Russia investigation: A top former Trump campaign aide may soon plead guilty in a deal with special counsel Robert Mueller, CNN reported. Rick Gates, a former adviser to Trump's campaign, would be the third Trump associate who has publicly entered a plea dealer with Mueller.
Former White House chief strategist Steve Bannon faced questions from the House Intelligence Committee Thursday, but he only gave pre-scripted answer provided by the White House.
Shooting latest: The New York Times reported it is easier to buy an AR-15, a semi-automatic rifle based on the military issue M-16, than a handgun in Florida. Nikolas Cruz, the 19-year-old accused shooter at a Florida high school, could have purchased an AR-15 legally, but he was not old enough (you must be 19) to buy a handgun. In Florida, one must be 21 years old to purchase a handgun.
Per usual, lawmakers in both parties fell into their partisan camps and showed no signs they will pass new legislation of any kind in the wake of the mass shooting. Various legislative and regulatory proposals have either lingered in Congress or are under agency review, far from doing anything to affect America's highest rate in the developed world of gun violence.
Opioid crisis: Washington is struggling to address the core causes of the opioid crisis, Axios reported. Despite a mandate from Trump to focus on the issue, funding and focus has been divergent and so far has had little impact on slowing down deaths caused by the addiction to drugs.
Travel ban: A fourth U.S. federal court ruled Trump's travel ban discriminates against Muslims.
Gas tax: A 25 cent gas tax would wipe 60% of the average tax benefit to Americans out of the GOP tax reform bill.
Mitt Romney: In an announcement on Twitter, Mitt Romney said he is running for the Senate in 2018. Romney is heavily favored to win the seat. In his video, he said Utah welcomes immigrants and treats people with respect — a jab at Trump, who Romney has repeatedly decried for his policies and rhetoric.
Today's MicBite:
Kratom is an opioid-like substance that allegedly caused several deaths in recent years. Here's the thing: It's legal — so legal that Jack Smith IV could whip it up and imbibe in the Mic office kitchen.