Ahead of midterms, millions of dollars are pouring in toward state legislative races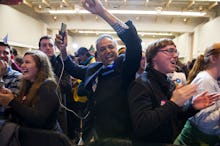 It looks like 2018 may be a big year for races for state legislatures.
Groups on both the left and right are pledging to pour tens of millions of dollars toward competitive state House and Senate races nationwide, with Republicans hoping to preserve their historic advantage in statehouses, and Democrats aiming to break GOP supermajorities or take back legislative chambers ahead of 2020's redistricting.
Several recently launched advocacy groups, including the National Democratic Redistricting Committee and Forward Majority, are focused on supporting Democrats in state legislative races. One of these, Future Now, has signed more than 200 candidates for state House and Senate seats onto a set of goals which legislators say they will aim to achieve by 2030. Among other targets, the pledge calls for state legislators to raise the minimum wage, fund universal pre-kindergarten and limit corporate spending in elections.
Future Now is the latest multimillion dollar investor in 2018 state elections, with a plan to invest $4 million through its super PAC arm, Future Now Fund, the group exclusively told Mic on Friday. They will support candidates who support their goals, and whose victories could lead to Democrats winning back the House or Senate in four states: Arizona, Maine, Michigan and North Carolina.
"People [pay] more attention to the impact their state government representatives have on their lives," Daniel Squadron, the group's executive director and a former New York state senator, said in an interview. "The cliche is 'sea change.' The reality is a tidal wave."
More broadly, the National Democratic Redistricting Committee, a fund led by former attorney general Eric Holder, plans to spend $30 million in a dozen states in 2018 on gubernatorial, down-ballot statewide and legislative races. And the Democratic Legislative Campaign Committee said it will spend $35 million on 2018 races, while state legislature-focused super PAC Forward Majority plans to raise at least $12.5 million in 2018.
Future Now said it can add value by zeroing in on legislative races beyond the Democratic party's focus, and which hold the potential to impact the everyday lives of state residents. In Maine, the GOP-held state Senate has worked with Republican Gov. Paul LePage to block popular health care reform efforts, Squadron said. In North Carolina, the Republican legislature has prevented health care expansion, which a majority of state residents support. That makes those chambers prime targets for Future Now.
In Michigan, Rep. Chris Greig (D-Farmington Hills) said she hopes the investment from Future Now will help Democrats flip the nine seats necessary to win a majority in the state House. The No. 2 Democrat in Michigan's House, Greig said she is the only woman in House or Senate leadership. If Democrats win the House in 2018, she said she hopes to become Michigan's first woman speaker.
"What was so nice was seeing a set of principles we can all agree on and move toward," Greig said in an interview. "As a country, if we start moving toward these goals, it's going to be better for everybody."
Del. Jennifer Carroll Foy (D-Woodbridge) said the Virginia House of Delegates is already aggressively pursuing the group's goals. Future Now backed 10 Virginia House candidates in the November 2017 election; nine of them won. Now, with 17 delegates out of 100 signed onto the goals, Carroll Foy said in an interview that she has advanced bills improving the adoption process and investing in the state's education system that align with the pledge she took with Future Now.
"I always tell people, 'What Trump does may never affect you. But whatever I do will affect you July 1 of every single year.' That gets people's attention," she said. The group's approach — forcing candidates to sign on to policies they can be held accountable for pursuing before providing support — guarantees supporters and donors know what they are getting from a candidate.
"Do you want something general that you can hope or something concrete that you know?" Carroll Foy said. "When you just donate to a general PAC, you're spending that money in hope it gets to a good candidate. When you donate to Future Now, you know there is a vetting process. You know this is what this candidate represents."