Mitt Romney takes veiled digs at Trump as he officially announces Utah Senate bid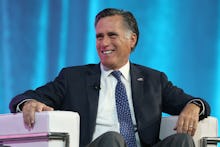 Former Massachusetts Gov. Mitt Romney threw his hat back into the political ring Friday morning, officially announcing that he's running for a newly open U.S. Senate seat in Utah.
Romney made the announcement in a video he posted to Twitter, reintroducing himself to voters more than five years after losing the 2012 presidential campaign to now-former President Barack Obama.
"Over the last five years, Ann and I have spent a good deal of time with our 24 grandchildren, I've gone back to business, campaigned for Republicans and met with young people across the country," Romney said. "Given all that America faces, we feel that this is the right time for me to serve our state and our country. I ask for your support and your vote."
In the video, Romney praises Utahn values and touts his leadership during the 2002 Winter Olympics in Salt Lake City.
He said he chose to run for the Senate seat being vacated by retiring Sen. Orrin Hatch because he wants to "bring Utah's values and Utah's lessons to Washington."
Romney also takes a semi-veiled swipe at President Donald Trump, with whom he's feuded since the 2016 presidential campaign.
"Utah welcomes legal immigrants from around the world. Washington sends immigrants a message of exclusion," Romney says in the video, a dig at the Trump White House, which helped scuttle an immigration deal in the Senate on Thursday.
Romney suggests he'll be an independent voice, another quiet dig at Trump and Senate Republicans — who have refused to vote for bills without Trump's approval.
"If you give me this opportunity, I will owe the Senate seat to no one but the people of Utah," Romney says in the video. "No donor, no corporation will own my campaign or buy us my vote, and let there be no question: I will fight for Utah."
Romney enters the race as the odds on favorite.
A poll from late January found Romney would grab 85% in a GOP primary, and in a general election, he would capture 64% of the vote against Democrat Jenny Wilson, who is running for the seat.
In the 2012 presidential election, Utah was Romney's best state, winning 73% of the vote.