Alton Brown: "Instagram has done to food what porn has done to sex"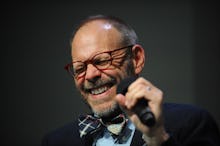 NEW YORK — Alton Brown believes that our picky palates and trivial standards of beauty have contributed to food inequality across the country. In a conversation about transforming the way we eat hosted by The Atlantic on Thursday night, the chef, TV personality and James Beard Award-winning author spoke about our massive food waste problem and some simple solutions.
"We must eat the ugly food," Brown said. "We do not have a food shortage, we just have food we refuse to eat." The author went on to cite the audacious amount of waste that occurs with America's most popular fruit: Bananas are the most-wasted produce item in grocery stores, contributing to the most food waste in regard to weight and environmental impact. In the U.K., 1.4 million bananas are tossed every day; in the U.S., consumers pass over bananas that have blemishes on their peels because they perceive them as past their window of ripeness. But anyone who's ever baked a banana bread from leftover fruit kept in the freezer knows that the darker the peel, the sweeter the taste.
"Instagram has done to food what porn has done to sex," Brown said, suggesting that stylized photos on social media have set unrealistic expectations for what good food should look like. This has consequences, in the same way the porn industry can tarnish how some porn viewers understand intimacy, which could ultimately undermine healthy relationships.
In the case of well-lit and filtered food, Brown infers that consumers' criteria for picture-perfect food leads to wastefulness. Including those bruised bananas, some six billion pounds of produce is wasted in the U.S. annually. Often, consumers pass on food merely because it is ugly. A public service announcement: Just because a potato looks like a swan doesn't mean it'll taste like one.
Brown looked to the past as he discussed what food will look like in 2050, when there will be 10 billion people on the planet. Speaking about the federal government's role in fixing our country's food deserts, Brown said, "I'm 55 and I haven't seen them fix anything in my lifetime."
During food shortages — like during the Great Depression — Brown said the people he's interviewed said they made it through by growing their own produce. Brown is a big proponent of communities taking ownership over their food through gardening, canning and the like: "If you grow one piece of food and feed it to your family, you are empowered to do more," he said.