The unexpected apoliticism of New York Fashion Week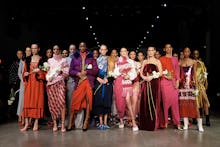 For the past year, New York Fashion Week has been outright political. The Council of Fashion Designers of America, which organizes NYFW, encouraged attendees as well as designers to don pins for organizations that felt most pressing to support, with Planned Parenthood pins in February 2017 and then, in September, blue ACLU ribbons.
This season, that political tone at NYFW halted. The CFDA didn't organize any such pin to be worn for any current issue, like the Time's Up or #MeToo movements or even DACA Dreamers. Although a select few events did bring the #MeToo movement and the Women's March to NYFW, there was no official encouragement to bring these conversations to NYFW.
As far as the shows go, there were very few that decided to get into the political spirit at all. The one show that got outright political was Prabal Gurung, a designer who sent down feminist statement T-shirts at his show last year. In the front row of his show this year sat Tarana Burke, the founder of #MeToo, and the finale had each of the models coming out with white roses, which were just worn and carried at the Grammys as a sign of solidarity with the #MeToo and Time's Up movements.
In an interview with T, the New York Times style magazine, Gurung said that he used them to symbolize the act of listening, which is essential in any social change conversation.
"Everyone's been asking if I'm going to do another T-shirt," Gurung said. "You know, I've already done it. Especially this time around, especially as a man, my job is to listen. If any man or men are to learn anything from this, it is to really listen to women. That's it."
At two other shows, a different kind of political message was sent from the models themselves. At the Chromat show, as per usual, women of different sizes and shapes and shades and ages walking joyfully one after another, which in this era feels political unto itself.
Then there was the Gypsy Sport show where, for the finale, models walked with their arms looped, with Munroe Bergdorf leading the pack with designer Rio Uribe. That too, in this climate, felt like a message of empowerment.
This time a year ago, with the dawn of the Trump administration, there were several high-profile shows that made political statements through fashion, including Gurung, Naeem Khan, Christian Siriano and Public School. In September, the number of shows with a political mood dwindled, which was understandable.
However, what feels especially odd about this NYFW being so mum about #MeToo and Time's Up is that this conversation relates directly to the industry in ways that Planned Parenthood and the ACLU did not.
There have been multiple allegations against some of the most popular fashion photographers, including Vogue favorites Bruce Weber and Mario Testino, with an ongoing conversation about just how much sexual harassment and exploitation has influenced and embedded itself in this industry. Models are still regularly sharing experiences of harassment on set, with Condé Nast instituting new rules to help prevent it.
But as the Cut recently reported, several bigwigs in the industry remain supportive of the photographers who have been accused of harassment. In that case, NYFW ignoring Time's Up and #MeToo doesn't exactly feel accidental.