Unreliable sources: A look at the worst media moments this week that weren't about indicted Russians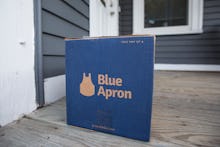 Across the media landscape this week, some reporting and commentary on the storylines of were rife with mischaracterizations or flat-out falsehoods. Here's a look at some of the more cringe-worthy takes and media mistakes from this week.
The Washington Post splits hairs debunking school shooting statistics
In the aftermath of the Feb. 14 school shooting in Parkland, Florida, that left at least 17 people dead and more than a dozen injured, a number of news reports contained a jaw-dropping statistic about the sheer frequency of school shootings in 2018.
"Parkland, Florida school shooting was 18th shooting of 2018," the headline from Time read. "18 school shootings in 45 days," CNBC's headline blared. The figure was repeated in outlets from the New York Daily News to ABC News to HuffPost and Politico's "Playbook": "U.S. averages a school shooting every 2.5 days in 2018." The statistic also made it into Mic.
The number — which, yes, calculated to one school shooting every 2.5 days — is downright horrifying. But if you were a reader of the Washington Post, you might be relieved to find out that that statistic is "flat wrong."
According to the Post's John Woodrow Cox and Steven Rich, the "18th school shooting" figure, which comes from the gun violence prevention nonprofit Everytown for Gun Safety, categorizes a school shooting as "any time a firearm discharges a live round inside a school building or on a school campus or grounds." That means accidental discharges, suicides, or gunshots that came from off campus onto campus are all included in the final tally.
The Post presents a reasonable criticism of Everytown's broad definition of a school shooting. Some of the events Everytown counted as a school shooting in 2018 included an incident on Jan. 3 in which a man killed himself in the parking lot of a Michigan elementary school, which had closed months prior. Counting that as a school shooting seems like a stretch. Everytown took notice of the Post's point and removed the suicide from the total tally after Post reporters reached out.
But when the Post makes its own attempt to define what actually counts as a school shooting, the paper gets it wrong. Cox and Rich make the claim that there are other incidents that "are not really school shootings" on Everytown's list, suggesting that school shootings should perhaps only count when they occur during normal school hours, or only when they result in physical injuries.
Based on that much narrower definition, a Jan. 20 incident in which a man was shot and killed at a sorority event at Wake Forest University wouldn't count as a school shooting. Neither would an incident on Jan. 26 in which someone fired a gun several times in a high school parking lot, apparently over an altercation that occurred while a student basketball game was ongoing. "No one was injured, and it was past 8 p.m., well after classes had ended for the day, but Everytown still labeled it a school shooting," Cox and Rich wrote.
The Post keeps its own database of school shootings, which it admits is "a conservative calculation" that "does not include dozens of suicides, accidents and after-school assaults that have also exposed kids to gunfire." Why not?
It's true — Everytown's "18 school shootings" figure is overly broad, and the tally of school shootings in 2018 reported by various media outlets was misleading. However, all the Post really did was illustrate the fairly obvious point that changing the criteria of what counts as a school shooting influences the number of school shootings tallied. Because there is no universally accepted definition of what counts as a school shooting, it makes tracking data on the subject difficult. It also means that different news outlets and advocacy groups report different figures based on what they think is the best definition. (Similarly, there are disagreements over criteria that should make a shooting event count as a mass shooting.) Ultimately, the media's widespread use of Everytown's figure shows the danger of having to rely on advocacy groups for data.
The timing of the Post's article also left some readers with a bad taste in their mouths. Trying to narrow the definition of a school shooting the day after a deadly attack, to some readers, sounds downright callous. "Saying suicides or a shooting at a campus sorority party 'don't count' is some really insidious word-parsing," one Twitter user said.
But the article was a gift to others — particularly the hundreds of Twitter users who on Thursday and Friday shared the article to cry "fake news."
CNN and NBC News misleadingly call Trump's proposal to slash food benefits "Blue Apron"-esque
On Monday, the Trump administration unveiled a budget proposal that prioritizes military spending while racking up deficits by $7 trillion in 10 years, and making deep cuts to social and domestic programs. One proposal in the budget, aimed at the Supplemental Nutrition Assistance Program (formerly known as food stamps) would slash the amount of money that recipients receive and replace part of their benefits with a box of shelf-stable food items.
Mick Mulvaney, the administration's director of the Office of Management and Budget, compared the program to the high-end meal kit delivery service Blue Apron. The favorable comparison was quickly and dutifully repeated by news outlets like CNN, NBC News and Fortune.
"White House wants to deliver food to the poor, Blue Apron-style," the headline to CNN's article read. "Trump wants to cut food stamps — and replace them with Blue Apron-like food boxes," read Fortune's headline.
"The Trump administration is thinking inside the box," an NBC News article about the proposal began. "President Donald Trump wants to drastically scale back food stamps and replace them with a 'food box' delivery program — like Blue Apron."
The problem? The proposed food box delivery program, which would affect about 80% of the households who receive SNAP benefits, would be almost nothing like a high-end meal delivery service like Blue Apron. That chic service costs $9.99 per serving and delivers "farm-fresh, seasonal produce," "meat with no added hormones" and "sustainably sourced seafood" as part of ready-to-cook meal kits, according to its website.
The Trump administration's proposed food box delivery program would not contain fresh fruits, vegetables or meats. Instead, the boxes would contain "shelf-stable milk, juice, grains, ready-[to]-eat cereals, pasta, peanut butter, beans, canned meat, poultry or fish and canned fruits and vegetables." Compare that to the ingredients required for meal offerings like Blue Apron's "miso-glazed barramundi with roasted vegetables and garlic rice," or the "sliced steak tagliata with sweet potatoes, green beans and tomato vinaigrette" offered by the similar meal kit delivery service HelloFresh, and you start to notice a difference.
As Mic's Susie Poppick noted in a column Tuesday, "The qualities that make food cheap, easy to package and slow to spoil also mean what you're getting is typically less nutritious."
It seems the only real similarity between the programs is that food arrives in a box.
Whatever one's thoughts on overhauling the SNAP program are, a government offering that delivers processed and canned food items to low-income Americans is almost nothing like a high-end delivery of fresh food intended to make cooking easier. While it's the White House's prerogative to try to glamorize one of its proposals, it's a media outlet's job to cut through the spin and report the truth.
The media fawned over Kim Jong Un's sister
The appearance of Kim Jong Un's sister, Kim Yo Jong, at the Winter Olympics in Pyeongchang, South Korea, over the weekend was enough to put some media outlets in a tizzy.
"Kim Jong Un's sister turns on the charm, taking Pence's spotlight," a headline from the New York Times read. "Kim Jong Un's sister is stealing the show at the Winter Olympics," CNN's read.
In story that ran in the Washington Post and the BBC, journalists compared Kim to President Donald Trump's daughter, Ivanka Trump; on television, commentators took note of Kim's personal style. The positive coverage of Kim's presence at the Olympics extended through right-wing media, making it to outlets like Breitbart and Fox News: "'Kim Jong Un's Ivanka' set for Winter Olympics visit with North Korean delegation," read one Fox News headline.
Kim's moment in the spotlight was a perfect media moment: There was a rare appearance of a powerful person close to a notorious and press-shy dictator during an unusual Olympics, in which athletes from both North Korea and South Korea were in competition together as a unified team. Kim's presence gave journalists ample room to speculate as to what message North Korea was trying to send by sending Kim as part of a "charm offensive."
But the fawning coverage of Kim and the particular focus on more superficial elements, like her makeup, her "charm" and her (imagined?) "side-eye" to Vice President Mike Pence, seemed to many critics like it didn't take seriously enough North Korea's well-documented human rights abuses.
"PSA: Kim Jong Un's sister is not your new fave shade queen. She's a garbage monster," read a BuzzFeed article slamming the positive press and noting that the North Korean regime has been accused of a number of human rights abuses that include "frequent public executions of its own citizens," the enslavement of citizens and the use of political prison camps, the atrocious conditions of which have been well-documented. Right-wing media was quick to pounce on mainstream sites for their coverage of Kim, conveniently with some leaving out that their own sites had framed the story similarly.
Plenty of news outlets, in a mix of political and celebrity news, write articles that dissect fashion choices or press appearances of famous women and men who are related to other powerful people. It would be rare for a story about first lady Melania Trump's personal style, for instance, to include a detailed rundown of her husband's policy proposals. And Olympics coverage is not known for focusing heavily on political stories; they more often hone in on the athletes and their personal triumphs.
Of course, Kim is believed to be a deeply influential and powerful figure in the North Korean regime who makes decisions about policy and propaganda for the notoriously repressive and violent dictatorship. If nothing else, treating her like a Kardashian instead of a powerful political figure gave the North Korean regime a big press-relations win.