McMaster acknowledges Russian interference in 2016 election — something Trump still doubts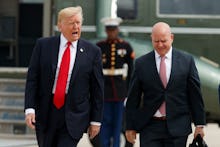 Following the indictments of 13 Russians, national security adviser H.R. McMaster on Saturday said that the there was no question that the Kremlin interfered in the United States presidential election in 2016 — something that Moscow has continued to deny and that President Donald Trump has repeatedly questioned.
"With the FBI indictment, the evidence is now incontrovertible," McMaster said in response to a question from a Russian delegate at the Munich Security Conference Saturday.
Deputy Attorney General Rod Rosenstein on Friday announced that 13 Russian nationals and three Russian agencies had been charged with "conspiracy to defraud the United States" for meddling in the 2016 election.
While Rosenstein emphasized that these charges didn't conclude that the Russian meddling had impacted the outcome of the election, the 37-page indictment handed down by special counsel Robert Mueller said that the Kremlin "had a strategic goal to sow discord in the U.S. political system" by "supporting the presidential campaign of then-candidate Donald J. Trump ("Trump Campaign") and disparaging Hillary Clinton."
Trump — who has dismissed the Mueller probe as a "witch hunt" and suggested that Rosenstein's job security might be in question — immediately took to Twitter to falsely claim that the announcement proved there was "no collusion!"
"The Trump campaign did nothing wrong," the president tweeted Friday.
Of course, Mueller is continuing to investigate whether that's true. He's also continuing to probe the possibility that Trump sought to obstruct justice.
Mikhail Burchik, one of the indicted Russians, blasted the U.S. justice system as "one-sided" following Rosenstein's announcement.
Sergey Lavrov, the Russian foreign minister who was also at the Munich Security Conference on Saturday, denied the charges as "blabber."
Trump has showed a willingness to accept such dismissals in the past.
In November, after a meeting with Vladimir Putin, Trump suggested he trusts his Russian counterpart over the "hacks" at his own intelligence agencies.
"He said he didn't meddle. I asked him again. You can only ask so many times," Trump told reporters aboard Air Force One at the time. "Every time he sees me, he says, 'I didn't do that. And I believe, I really believe, that when he tells me that, he means it."
Trump has also said that the notion of Russian interference is a hoax put forth by Democrats to explain their unexpected loss in 2016.
Just this week, sources told CNN that the president still has doubts about Russian meddling.
But members of his own administration, including Secretary of State Rex Tillerson and United Nations ambassador Nikki Haley, have publicly agreed with the conclusions of the U.S. intelligence leaders, who have warned that the Russians will likely attempt to meddle in the upcoming U.S. midterm elections this year.
"I haven't seen a significant decrease in their activity," CIA director Mike Pompeo told the BBC in January. "I have every expectation that they will continue to try and do that."