After missed tip on alleged Parkland shooter, FBI again comes under intense scrutiny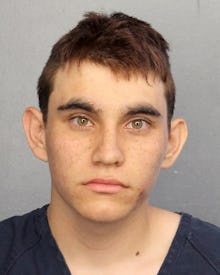 The FBI was warned in January that Nikolas Cruz had a "desire to kill people."
But, the bureau said in a statement Friday, they failed to investigate the tip — and are now facing a tidal wave of scrutiny after the 19-year-old allegedly shot and killed 17 people and wounded more than a dozen others at Marjory Stoneman Douglas High School in Parkland, Florida, on Wednesday.
"I am committed to getting to the bottom of what happened in this particular matter, as well as reviewing our processes for responding to information that we receive from the public," FBI Director Christopher Wray said in a statement. "It's up to all Americans to be vigilant, and when members of the public contact us with concerns, we must act properly and quickly."
According to the FBI, "a person close to [Cruz]" called the bureau's public access line and said that Cruz owned guns, wanted to kill people, was behaving erratically and made "disturbing" social media posts.
The person warned them of the "potential of [Cruz] conducting a school shooting."
But, according to the statement, the tip wasn't passed along to the FBI Miami field office, as protocol called for, and "no further investigation was conducted at that time."
Florida Gov. Rick Scott called on Wray to step down following the FBI announcement Friday.
"The FBI's failure to take action against this killer is unacceptable," Scott said in a statement Friday. "The FBI director needs to resign."
New fuel for critics of Trump-Russia probe
Some of the FBI backlash came from the right-wing allies of President Donald Trump, who have been blasting federal law enforcement over special counsel Robert Mueller's Russia probe.
"The FBI was too busy trying to undermine the president to bother with doing its freaking job," Townhall columnist Kurt Schlichter wrote in a tweet liked by Donald Trump Jr. — the president's eldest son.
Trump has long attacked the FBI investigation into possible collusion between his 2016 campaign and the Kremlin as a politically motivated "witch hunt." In recent months, a number of conservatives in the media and on Capitol Hill have joined him in attempting to undermine the credibility of the probe.
In December, after Trump tweeted that the FBI was in "tatters," Wray defended the bureau.
"Our reputation is quite good," Wray said in a hearing before the House Judiciary Committee.
Now, though, Wray is coming under heavy scrutiny over the FBI's mishandling of the Cruz tip, as Sen. Marco Rubio (R-Fla.) calls for House and Senate probes into the bureau.
"Lawmakers and law enforcement personnel constantly remind the public that 'If you see something, say something,'" Rubio said in a statement Friday. "In this tragic case, people close to the shooter said something, and our system utterly failed the families of 17 innocent souls."
Cruz — a former student at the Florida high school — is currently in custody without bond following Wednesday's deadly shooting.
Republic of Florida, a white nationalist group, told the Anti-Defamation League that the 19-year-old was affiliated with the organization. But the ADL later updated its post, saying it has since learned that "a member of an alt-right discussion forum wrote that all of the claims were false and were part of an elaborate attempt to troll a network news reporter[s] and other media outlets."
In a press briefing with reporters on Thursday, the FBI agent Robert Lasky indicated that Cruz apparently wrote that he is "going to be a professional school shooter" on a YouTube video in 2017.
A cell phone video taken by a neighbor in the fall seems to show Cruz doing target practice in his backyard.
Police had been dispatched to Cruz's home more than 30 times since 2010, BuzzFeed News reported Friday.
Students have described Cruz as an "off kid" who showed off his weapons and demonstrated a propensity for violence.
"A lot of people were saying that it would be him," a student told Miami's WFOR-TV. "Everyone predicted it."
Feb. 23, 2018, 12:25 p.m.: This story has been updated.
Correction: Feb. 23, 2018