This week in Trump-Russia news: Robert Mueller removes all doubt on Russian interference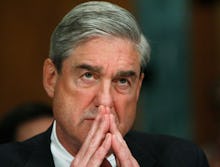 President Donald Trump has long insisted that the United States intelligence community's conclusion — that Russia interfered in the 2016 election — is nothing but a story concocted by Democrats to explain his upset victory over Hillary Clinton.
But on Friday, Robert Mueller not only affirmed that the Kremlin tried to sway the 2016 race for Trump — he charged 13 of the Russian nationals and three of the Russian agencies who were behind that meddling.
Here's what you need to know about the latest indictments out of the special counsel's office — and everything else that went down in a busy week of Trump-Russia news.
Russians charged with conspiracy to defraud the U.S.
The main defendant in the charges was the Internet Research Agency — a Russian troll farm known for its propaganda and disinformation campaigns.
According to the indictment, the agency "had a strategic goal to sow discord in the U.S. political system" by "supporting the presidential campaign of then-candidate Donald J. Trump ('Trump Campaign') and disparaging Hillary Clinton."
All parties named by the special counsel were charged with conspiracy to defraud the United States. Some were also charged with conspiracy to commit wire fraud and bank fraud, as well as aggravated identity theft.
The indictments were announced Friday by deputy attorney general Rod Rosenstein — whose situation has appeared tenuous in recent weeks amid speculation that Trump has him on the chopping block.
Democrats have cautioned Trump against firing Rosenstein, writing in a letter that doing so would be tantamount to obstruction of justice and that it would trigger a "constitutional crisis."
According to some observers, Rosenstein announcing the charges Friday could make it a little more difficult for Trump to can him, as it would give off an even stronger impression that the president is obstructing justice.
Trump says "no collusion!"
Rosenstein was also careful on Friday to emphasize that this particular indictment does not conclude that the Russian efforts impacted the results of the election — and that no American was "a knowing participant in this illegal activity" outlined in the 37-page document released by the special counsel.
Trump latched onto that to proclaim, baselessly, that the indictment proved his campaign "did nothing wrong."
"No collusion!" he tweeted.
Of course, Mueller is continuing to probe the possibility of collusion and of obstruction of justice on the part of the president — so the suggestion that Friday's charges have cleared him is plainly wrong.
Trump is also on shaky ground when he suggests that his team "did nothing wrong." Members of his campaign and transition team, including his own son, had suspicious contacts with Russians that have come under significant scrutiny — and forced his attorney general, Jeff Sessions, to step away from matters relating to the federal probe. What's more, the Mueller probe has already brought down four former Trump officials — including former campaign chairman Paul Manafort. Former campaign aide George Papadopoulos' drunken comments to an Australian official in 2016 about Russia are what led to the FBI investigation in the first place.
Mueller is expected to request an interview with Trump soon as part of the probe — something that has weighed on the president's legal team.
California man implicated in Russian scheme
Mueller on Friday also unsealed the guilty plea of Richard Pinedo — a 28-year-old California man who was charged with identity fraud.
According to the statement of the offense, Pinedo illegally sold bank account numbers online to purchasers who would use them to "circumvent the security features of large online digital payment companies."
He opened some of the accounts in his own name; others, he opened up in the name of others, sometimes using stolen identities.
Some of of his business was done with the Russians seeking to interfere with the U.S. election in 2016, according to prosecutors.
Pinedo does not seem to have any connection to the Trump campaign. In fact, according to the special counsel's office, he did not even seem to be aware that he was a knowing participant in the Kremlin's meddling.
There is "no evidence and there is no allegation he was a witting participant in the Russian efforts to interfere in U.S. elections and political processes," Peter Carr, a spokesperson for the special counsel, said in a statement.
Kremlin dismisses Mueller charges as "blabber"
During an appearance at the Munich Security Conference on Saturday, Sergey Lavrov — the Russian foreign minister — brushed aside the indictments handed down by the special counsel.
"Until we see the facts everything else is just blabber," Lavrov said.
Russia has continuously denied that it interfered in the 2016 election.
Trump has seemingly bought those dismissals on several occasions — and reportedly still doubts the conclusion of the U.S. intelligence community that Russia hacked the election.
But members of his own administration have openly said that they accept the intelligence assessment.
H.R. McMaster, the president's national security adviser, said at the same conference in Germany Saturday that there was no question that Moscow had meddled in the presidential election.
"With the FBI indictment, the evidence is now incontrovertible," McMaster said Saturday.
Things keep getting worse for Manafort
Manafort, meanwhile, seems to be in more trouble with Mueller.
In a court filing made public Friday, prosecutors said that they recently uncovered evidence of more bank fraud committed by the former Trump campaign head.
According to the special counsel, "additional criminal conduct" has come to the attention of investigators since bail was first set for Manafort following his October indictment.
"That criminal conduct includes a series of bank frauds and bank fraud conspiracies," the filing reads.
Among the new allegations against Manafort is the accusation that he secured a mortgage for his Fairfax, Virginia, property "through a series of false and fraudulent representations."
It is not clear if Mueller has or plans to file additional charges against Manafort.
Gates may be getting ready to flip
Rick Gates, the former Trump aide who was indicted with Manafort, appears to be preparing to strike a deal with Mueller's team.
According to CNN, Gates has been working on a plea agreement with the special counsel for roughly a month and is now finalizing the deal.
That would make the Manafort associate the third known former Trump official to be flipped by Mueller.
Both Papadopoulos, who pleaded guilty to lying to the FBI about his Russia contacts in October, and Michael Flynn, who pleaded guilty to that same charge in December, are cooperating with the special counsel.
Gates was Manafort's deputy during his time on the Trump campaign and worked on the Trump Inaugural Committee. After Trump took office, Gates formed the America First Policies non-profit and reportedly continued to have contact with the White House.
The White House has downplayed the problems Gates could pose to Trump if he does, in fact, flip.
"There'd be no anxiety here," a White House spokesperson told CNN.