'Black Panther' just broke the record for the biggest opening weekend for a black director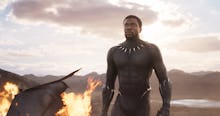 Over President's Day weekend, Marvel's Black Panther raked in $192 million at the domestic box office, breaking the record for the biggest opening weekend for a black director ever.
The film's director, Ryan Coogler — who also directed 2015's Creed — dethroned F. Gary Gray, who previously held the record with the 2017 action film The Fate of the Furious, which made $98 million in its premiere weekend. Black Panther also had the fifth-biggest opening weekend of all time, behind The Avengers ($207 million), Jurassic World ($209 million), Star Wars: The Last Jedi ($220 million) and Star Wars: The Force Awakens ($248 million).
The massive box office success of Black Panther makes tangible something that its fans already knew: It's more than just another superhero movie. Black Panther proves that movies made by and starring black people can enjoy massive, mainstream success. That's not a revelation for many people, but in an era where internet hate groups organize targeted campaigns to tank the review scores of movies with diverse casts — as was the case with Star Wars: The Last Jedi and again with Black Panther — that message is an important one.
Black Panther has also inspired fans to dress in elaborate cosplay, organize black-tie galas and set up voting registration drives. The film's afrofuturist style also inspired some truly incredible red carpet fashion at its premiere.