Why Donald Trump's new support for background checks may not move Congress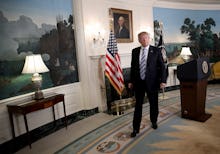 The White House announced Monday morning that President Donald Trump is open to bipartisan legislation that would toughen background checks on gun purchases in the United States.
"The president is supportive of efforts to improve the federal background check system," said Sarah Huckabee Sanders, the White House press secretary, in a statement. Trump spoke with Sen. John Cornyn (R-Texas) on Friday about background check legislation Cornyn introduced with Sen. Chris Murphy (D-Conn.) after 26 people were killed in November at a church in Sutherland Springs, Texas.
Monday's announcement is a significant pivot for Trump on background checks. After the Texas shooting, he said "extreme vetting" of firearm buyers would not have prevented the shooting. Cornyn's bill aims to fix the existing background check system by pushing state and local law enforcement to improve their reporting to the federal government of people who should not be allowed to purchase guns.
But Trump's announcement may matter little, as the House has already passed a similar background bill that is coupled with a reform to concealed carry laws. Democrats in Congress will not support the latter component, and House Republican leaders may not consider a Senate-passed bill that only strengthens background checks.
In December, the House passed a bill that required authorities to report criminal records to the National Instant Criminal Background Checks system. Agencies that fail to report information to the FBI would be penalized. The Sutherland Springs shooter was court-martialed and discharged from the Air Force in 2012 for assaulting his wife. That should have prevented him from buying a gun to commit the 2017 shooting, but the Air Force did not record the court-martial in a federal database.
That House bill would also allow people with permits to carry concealed firearms across state lines. A top priority for the National Rifle Association, the provision angered Democrats who largely voted against the legislation in the House. The bill has languished in the Senate as it cannot draw the 60 votes necessary to pass.
House Speaker Paul Ryan (R-Wisc.) suggested Thursday, a day after a shooting in Parkland, Florida, killed 17 people at a high school, that the House had already done its work on background checks by passing that bill. Ryan seemed to say it was up to the Senate to consider the House-passed background check legislation, which has gone nowhere.
The bipartisan Senate legislation sponsored by Cornyn and Murphy could be passed in that chamber and sent to the House for consideration. House Republican leaders would then have to decide whether to allow a straight vote on a bill to strengthen background checks without the concealed carry provision, which may draw the ire of the GOP-backing NRA.
The NRA spent more than $52 million in the 2016 election cycle, with virtually all of it spent against Democratic candidates or in support of Republican candidates. It also spent nearly $3.2 million lobbying Congress in that cycle.
Trump was by far the biggest GOP benefactor from the organization in the 2016 presidential election. The majority of the NRA's spending was for ads in support of Trump or against Hillary Clinton. Given that support, even Trump's willingness to consider stronger background check legislation comes as a bit of a surprise.