Trump spends weekend changing his story on Russian meddling, after Mueller indictments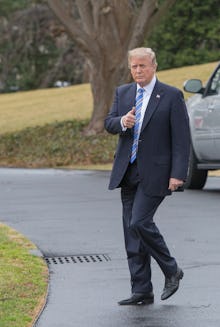 President Donald Trump spent the weekend holed up in his Mar-a-Lago estate in Palm Beach, Florida, tweeting out his new narrative about Russia's meddling in the 2016 presidential election, after special counsel Robert Mueller on Friday announced the indictments of 13 Russian nationals for an elaborate scheme to influence the race.
Trump is no longer saying the Russian meddling is a "hoax" — as he did for months. Instead, he's now blaming the Russian influence on former President Barack Obama, who Trump said didn't do enough to stop the Russian effort.
Trump continued that narrative Tuesday morning, live tweeting Fox & Friends — which had glommed onto Trump's new story on the Russian meddling.
"Thank you to @foxandfriends for the great timeline on all of the failures the Obama Administration had against Russia, including Crimea, Syria and so much more," Trump tweeted. "We are now starting to win again!"
Trump went on to bizarrely tweet out an October 2016 Obama quote, in which Obama hit Trump for saying the 2016 election was rigged.
"There is no serious person out there who would suggest somehow that you could even rig America's elections, there's no evidence that that has happened in the past or that it will happen this time, and so I'd invite Mr. Trump to stop whining and make his case to get votes," Obama said at the time.
"The President Obama quote just before election," Trump said in a subsequent tweet. "That's because he thought Crooked Hillary was going to win and he didn't want to 'rock the boat.' When I easily won the Electoral College, the whole game changed and the Russian excuse became the narrative of the Dems."
Of course, Trump's "rigged" election claims at the time had nothing to do with Russia.
Right before the election — when most of the country, including Trump and his team, thought he would lose — Trump was trying to tweet a pre-emptive excuse, saying the media and the Clinton campaign were the ones rigging the elections.
Trump's weekend tweetstorm is a far cry from his statement calling for unity after the indictments came down on Friday.
"It is more important than ever before to come together as Americans," Trump said in a statement Friday. "We cannot allow those seeking to sow confusion, discord and rancor to be successful. It's time we stop the outlandish partisan attacks, wild and false allegations and far-fetched theories, which only serve to further the agendas of bad actors, like Russia, and do nothing to protect the principles of our institutions. We must unite as Americans to protect the integrity of our democracy and our elections."