#WakandaForever: See the best outfits worn for 'Black Panther' opening weekend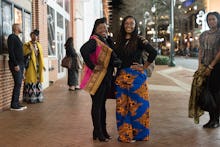 Even before Black Panther officially premiered Friday, its fashion was legendary. With esteemed costume designer Ruth E. Carter in control, many of the film's signature looks are genius fusions of ethnic dress from various tribes across Africa and Wakanda's own advanced technology.
Fittingly, the red carpet for the world premiere earlier this month put every other red carpet to shame. Then during New York Fashion Week, Black Panther's influence lived on, with designers presenting outfits — and even entire collections — inspired by the film.
So once the film debuted, it only felt natural for viewers to feel like if they were going to see this historic and gorgeous film then they better come dressed for the occasion. And don't think that meant just throwing on a Black Panther T-shirt.
All across social media this weekend, we saw a ton of spectacular outfits worn at Black Panther showings across the world.
Here are some of our favorites.