Will the advocacy of teenagers be enough to move Congress on gun laws?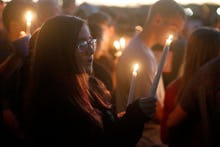 Welcome to Mic's daily read on Donald Trump's America. Want to receive this as a daily email in your inbox? Subscribe here.
Tuesday's dispatch: What must happen for America's gun laws to change
Congress is not in session in Washington, D.C., this week, so the test for those fighting to have America's gun laws changed will be whether the drum beat for reform after the deadly Parkland, Florida, mass shooting can be sustained over the next seven days and beyond.
A group of teenagers who survived the Wednesday shooting have vowed to be the last group of students threatened by a mass shooter on campus. Since the deadly event, they've conducted hundreds of interviews and meetings to advocate for change to Florida and America's gun laws. The March for Our Lives has been organized by survivors of the shooting for March 24 as a nationwide call to action "to address these gun issues" in Congress. "We're children. You guys are the adults. You need to take some action and play a role," said David Hogg, a senior at Marjory Stoneman Douglas High School, on CNN Thursday.
Therein lies the challenge for the teenagers who are captivating America, and taking a huge piece of the news cycle, with their calls to action. There are many avenues Congress could pursue, which various lawmakers believe would improve the gun violence crisis in the U.S., where 315 people are shot daily: banning semi-automatic rifles, strengthening the background check system, increasing mental health funding and creating waiting periods to buy guns are just a few of these proposals.
The problem for gun control advocates, which has proven insurmountable after recent mass shootings, is that Congress is not willing to come to a consensus on any of these proposals. Republicans, in particular, have historically not been willing to advance proposals the National Rifle Association opposes. And the NRA opposes nearly all gun reform legislation.
House Speaker Paul Ryan (R-Wis.) suggested on Thursday that his chamber had already acted in the wake of a mass shooting to address loopholes in the background check system. But the House GOP tied that reform to a provision that would let individuals licensed to conceal firearms carry their hidden guns over state laws. Democrats in the Senate refuse to support that provision, which has killed the bill's advance.
For Congress to have a chance at enacting the background check change, Ryan would have to change his tune. But the reform is small, essentially forcing stronger information sharing about the criminal records of Americans who should not be legally allowed to buy a gun. More ambitious reforms, like a ban on military-style "assault weapons," initially appear to have no chance of passing. Republican leaders have not expressed any interest in supporting a ban, and its support among the public has fallen over the past two decades.
In the wake of the Florida shooting, polling suggests initial public support is not with those seeking the toughest gun reform laws. A national ban on assault weapons hovers around 50% public support, according to a new Washington Post/ABC News poll. But only 29% of Republicans, and less than half of independents, support a ban. And such support has steadily dropped since 1994. The alleged Florida shooter used a semi-automatic AR-15 rifle.
More Americans say effective mental health screening and treatment could have prevented the Florida high school shooting than gun control, the poll found. Republican leaders are calling for a focus on mental health in the wake of the shooting, even as experts stress it's not clear that diagnosed mental illness can predict a mass shooting. By a 2-to-1 margin, Americans think mental health is primarily to blame for mass shootings over lenient gun control laws.
Congress is expected to again consider background check legislation in the Senate and may take up bills addressing mental health. But for now, laws that limit access to firearms appear very unlikely to advance.
Today's question: Do you think the advocacy of teenagers can move Congress on gun laws?
Please email us at trumpsamerica@mic.com with your thoughts.
Tuesday in Trump's America:
Trump tweet: The president on Tuesday morning cited a quote from then-President Barack Obama in 2016 saying the election could not be rigged. Trump said the "Russia excuse became the narrative" for Democrats after Trump won the election.
White House protest: Teenagers laid down outside the White House on Monday for 17 minutes to assert that Congress has done too little to change gun laws and prevent mass shootings. It is the first of many planned actions to pressure lawmakers to act in coming days. Trump did signal Monday he is open to stronger background checks.
Marjory Stoneman Douglas High School students are traveling to Tallahassee, Florida, on Tuesday to pressure state lawmakers to change the state's gun laws. They will continue to push for gun reform nationwide over the next several weeks.
A simple proposal to impact gun sales from the New York Times' Andrew Ross Sorkin: Banks and credit card companies could prohibit customers from using their institutions to purchase firearms.
Pennsylvania: The Pennsylvania Supreme Court announced new U.S. House districts Monday that would dramatically increase Democrats' chances of picking up Republican House seats in 2018. The court drew the map after ruling a 2011 map created by the GOP unconstitutional. Republicans are appealing the decision in federal court.
Pelosi and 2018: As they did in 2010, Republicans are planning a nationwide, anti-Nancy Pelosi campaign to temper Democratic hopes of winning the House. That has Democrats who have been critical of Pelosi's leadership in the House worried she may hurt their chances.
On the other hand, Speaker Paul Ryan is imploring his members to work harder to fundraise. Democrats have been outraising GOP incumbents in key races. Fifty-five Democratic challengers in competitive House races outraised their GOP opponents in the last filing period.
Insurgent campaign: The New York Times goes inside Democratic Rep. Beto O'Rourke's unlikely campaign to unseat Sen. Ted Cruz (R-Texas) in 2018 and become the first Democrat to win statewide in Texas since 1994.
Opioids: House Republicans will begin hearings next week focused on tackling the opioid epidemic. Trump has been criticized for promising to invest in fighting the opioid epidemic but actually investing few resources against the crisis.
Mitt Romney: The president, a past target and critic of 2012 GOP presidential nominee Mitt Romney, endorsed his former nemesis' Senate bid on Twitter.
Today's MicBite:
In the wake of the Florida school shooting, Americans are calling on the owners of assault-style rifles to surrender their weapons.
Do you own an AR-15, and are you thinking of turning it in? Or do you know someone who owns an assault rifle, and think they need to give it up?
Mic wants to tell your story. Email us: opinion@mic.com.