Mueller secures guilty plea from Gates associate in Russia probe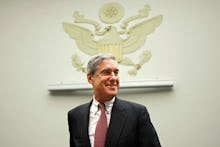 Alex Van Der Zwaan — a Ukraine-connected attorney with ties to former Trump campaign aide Rick Gates — has pleaded guilty to a charge of making false statements to the FBI, special counsel Robert Mueller's office announced Tuesday.
According to the two-page indictment, Van Der Zwaan lied to authorities about his last contact with Gates and someone identified as Person A. Prosecutors also allege that the lawyer "deleted and otherwise did not produce" emails the special counsel's office had requested, including an email between him and Person A in September 2016. Additionally, according to court documents, the special counsel's office concludes that he misrepresented his involvement in an international law firm's report on former Ukrainian Prime Minister Yulia Tymoshenko in 2012.
He made the false statements in November of last year, according to the indictment.
Van Der Zwaan is now the latest figure to be ensnared by Mueller, whose investigation into Russia's 2016 interference in the United States presidential election has intensified in recent days — and increasingly faced pushback from President Donald Trump and his allies.
On Friday, Mueller indicted 13 Russians and three Russian entities for meddling with the intent of sowing "discord in the U.S. political system" by "supporting the presidential campaign of then-candidate Donald J. Trump ('Trump campaign') and disparaging Hillary Clinton."
Trump initially said the announcement cleared him and his campaign of wrongdoing — which is not true — before spending the weekend lashing out at investigators, whom he accused of helping the Russians "create discord, disruption and chaos" within the U.S.
"They are laughing their asses off in Moscow," Trump tweeted Sunday. "Get smart America!"
He also drew heavy scrutiny for suggesting in a tweet that the FBI was too preoccupied with the Russia investigation to prevent the shooting at a Florida high school on Wednesday that left 17 dead and more than a dozen others wounded.
The guilty plea by Van Der Zwaan comes amid reports that Gates, a longtime associate of former Trump campaign chairman Paul Manafort, is nearing a plea deal with Mueller.
Both Gates and Manafort were indicted by the special counsel in October.
Gates served as Manafort's deputy on the Trump campaign, worked on the president's inaugural committee and remained in contact with the White House in 2017 as he helmed the pro-Trump America First Policies nonprofit.
The White House has previously downplayed the problems Gates could pose to Trump if he flips.
"There'd be no anxiety here," a White House spokesperson told CNN Saturday.
The indictment against Van Der Zwaan, which name-drops Gates, may suggest that the reports are correct and the former Trump aide is cooperating with the special counsel.
He would become the third known Trump official to cooperate with Mueller, joining former campaign aide George Papadopoulos and former national security adviser Michael Flynn.
Each has pleaded guilty to lying to the FBI over their Russia contacts in 2016.
The charges against Van Der Zwaan were announced Tuesday morning. He entered his guilty plea Tuesday afternoon.
Feb. 20, 2017, 5:13 p.m.: This story has been updated.