Students walk out of Florida high school to call for gun control in wake of Parkland shooting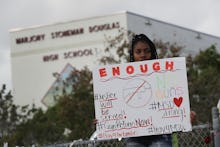 Hundreds of students from West Boca Raton High School staged a walkout Tuesday in a sign of solidarity with the students who survived the mass shooting at Marjory Stoneman Douglas High School, where 17 students and teachers were killed last week by a gunman armed with an assault rifle.
Video showed students walking down a road followed by police cars from the Palm Beach County Sheriff's Office to help keep the students safe, the Miami Herald reported.
West Boca Raton High School is roughly 10.5 miles from Marjory Stoneman Douglas, according to Google Maps.
Students from Fort Lauderdale High School and Hollywood McArthur High School also held student walkouts Tuesday, according to the Herald.
Students have been leading the calls for gun control in the wake of the shooting, including those from Marjory Stoneman Douglas, who are organizing the March for Our Lives on March 24.
Some Marjory Stoneman Douglas students, including Emma Gonzalez and David Hogg, have become the face of the movement, speaking out on cable news and giving speeches at rallies.
Hogg has been the target of a smear campaign from right-wing media and Republican pundits who have tried to paint him as an anti-Trump plant from the so-called deep state.
Others, including disgraced former Fox News host Bill O'Reilly, have questioned why the media is covering activism from these high-school students.
"O really? 'Students' are planning a nationwide rally? Not left wing gun control activists using 17yr kids in the wake of a horrible tragedy?," CNN contributor and former Rep. Jack Kingston (R-Ga.) tweeted, adding the hashtags #Soros, #Resistance, #Antifa and #DNC.