This app offers huge discounts on restaurant food and groceries that would otherwise be thrown away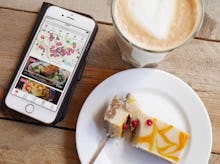 Restaurants waste a lot of food. In the U.S., restaurants generate 11.4 million tons of food waste per year, which adds up to a whopping $25 billion wasted, according to a report written by the nonprofit ReFED. If you've ever strolled through the alley behind a restaurant or grocery store, this surplus food is on full display: perfectly good produce, hours-old breads and more are made inedible when mixed in with regular garbage.
And although consumers might be willing to purchase this leftover food at a discount — who wouldn't want a croissant for an after-dinner dessert? — there hasn't been an efficient way to buy these goods without stopping by a restaurant or bakery to scope out whether they still have your favorite pastries at the end of the night. That is, until now.
Karma is an app that helps restaurants and grocery stores sell surplus food that would be thrown away to hungry users who are looking for cheaper eats. The app launched in Stockholm in 2016 and just recently popped up in London.
With the app, users can purchase surplus meals and food from grocery stores and restaurants, including some that are Michelin-starred, at 50% discount. According to Alex Spain, Karma's vice president of international expansion, the app currently has 250,000 users and 1,000 restaurants and grocery stores in multiple cities.
Karma's ultimate goal is to reduce the amount of food that gets thrown away. A whopping one-third of food (1.3 billion tons) produced for human consumption is wasted every year, a costly amount of resources that could otherwise go toward feeding the 795 million people worldwide who are chronically undernourished. Plenty of still-safe-to-eat food get trashed because of ambiguous sell-by dates. As Mic previously reported, Americans waste an estimated $29 billion worth of food because they're confused by expiration dates.
Karma offers a wide range of restaurants, from healthy fast-food chains like Hummus Bros and Detox Kitchen to Michelin-starred spots such as Aquavit and Magpie.
How it works
Restaurants and grocery stores don't have to pay to list their surplus food and meals on the app. Users will pay a discounted price — and a 25% transaction fee on that discounted price, to subsidize Karma's costs — and pick up their order at their chosen restaurant or grocery store.
Karma isn't the only app in the food waste game. Too Good To Go is another app that fights food waste by allowing stores to sell leftover food in the United Kingdom.
When asked what makes Karma different from Too Good To Go, Spain said, "Restaurants upload individual items or meals with pictures [to Karma] so users know exactly what they are getting."
This is just the beginning for Karma. Though the Karma team is currently focused on reducing food waste in London, "Our ambitions are to have a great impact as possible globally — that means working with as many suppliers in as many markets as we can," Spain said.