Meet the teens who have kept the debate about gun violence going after the Florida shooting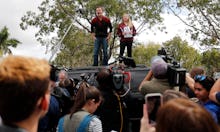 Welcome to Mic's daily read on Donald Trump's America. Want to receive this as a daily email in your inbox? Subscribe here.
Wednesday's dispatch: Meet the teens changing how we discuss guns
Lane Murdock was only a week out of middle school, in June 2016, when 49 people were gunned down in an Orlando, Florida, nightclub, in what was modern America's deadliest mass shooting at the time. She was a month into her sophomore year of high school when Stephen Paddock killed 58 people in Las Vegas in October, and that event became the deadliest mass shooting in modern American history. Then came another 26 killed at a church in Sutherland Springs, Texas, in November.
On Wednesday, Murdock saw the news of another mass shooting, this time of 17 dead at a Parkland, Florida, high school 1,300 miles south of her home in Ridgefield, Connecticut. Murdock, 15, has lived through four of modern America's 10 deadliest mass shootings since just before she entered high school. She was in elementary school when, 20 miles from her home, 20 children and six adults were gunned down in 2012 at Sandy Hook Elementary School in Newtown, Connecticut.
"When I heard the news, I wasn't surprised," Murdock said in an interview. "I felt a little bit numb to it. That shouldn't be a norm. When I evaluated that whole thought process, that's when I knew it was time for change."
Murdock is one of dozens of teenagers who have stepped into the national spotlight following the shooting in Parkland to call for a national conversation about ending mass shootings. She launched a petition that drew more than 90,000 signatures in less than a week to demand students walk out of class on April 20 — the 19th anniversary of the Columbine school shooting — and discuss solutions to gun violence.
Dozens of teenagers who watched their friends gunned down at Marjory Stoneman Douglas High School in Parkland have already launched petitions, started organizations, planned a national march, met lawmakers and offered their views in hundreds of media interviews.
"I am close friends with one of the victims and I want common sense gun control to be passed to prevent more families from losing loved ones in these terrible tragedies," wrote Anisha Saripalli, a student at the Florida high school, on a petition she started with 160,000 signatures calling for stronger gun laws.
Students at hundreds of high schools have already signed up to join the national school walkout on March 14, which is being organized by members of the Women's March youth organizing arm.
This generation of teens have grown up in a post-9/11 era, where violence overseas or in the U.S. appears in the news nearly constantly. Students told Mic that this makes it easy to become numb to yet another school shooting. They hope national marches, school walkouts and conversation can change the tone and conversation around these tragedies.
Shannon Watts, founder of grassroots gun-reform group Moms Demand Action, has been organizing for stronger gun laws since the day after the Sandy Hook shooting. More than 400 individuals have been shot in more than 200 school shootings since then. But this time, Watts said the response finally feels different.
"[This is] the first time after a horrific mass shooting where we saw the entire community, including survivors, galvanize around one clear message: We need strong gun laws," Watts said in an interview. "I don't know that we've ever seen that before."
Her group has gained 50,000 new members in a week — the most growth the group has ever had in one week, Watts said. A new member meeting in Raleigh, North Carolina, drew 500 people on Monday night; Watts said the event typically attracts roughly 30 people. Moms Demand Action is holding 500 events around the country in coming days to engage new members in the movement.
Winter Minisee was in her high school government class when an alert popped up on her phone. The 17-year-old does not remember what publication notified her of the Florida shooting. "Active school shooter," it said.
"I immediately went to Twitter," Minisee, who lives in Los Angeles, said in an interview. "I was able to see the actual students [at the Florida high school], their tweets. During that time, I felt a little helpless. Then, we got a text from people at the Women's March, and I knew I had to start doing something about it."
Minisee is one of a dozen members of Women's March Youth Empower, the organization's youth organizing arm, planning the March 14 walkout to call for stronger gun laws. Such walkouts have already launched organically. High schoolers in West Boca Raton, Florida, walked out of school Tuesday to support students a few miles south in Parkland.
These teenagers have their work cut out for them. As students from Marjory Stoneman Douglas watched at the state capital, members of the Florida House voted Tuesday to not consider a ban on military-style semi-automatic rifles, like the one used in the Feb. 14 Parkland shooting.
President Donald Trump signaled Tuesday that he supports bills to strengthen background checks and ban bump stocks, a device that modifies semi-automatic rifles to fire automatically. But those moves are not controversial — they enjoy widespread support — and will do little to change how easily the public can buy military-style guns used by recent mass shooters. Those changes are also backed by the National Rifle Association.
Cate Whitman, another 17-year-old leading the Women's March-organized walkout, planned a school walkout after Trump was elected in 2016 and has continued organizing in New York City since then. She says she was familiar with the Women's March before the Parkland shooting, but that event drove her to reach out and ask how she could support national efforts to respond to the news of 17 dead students and staff.
"It was an incredible tragedy, but it's great we could get together so quickly to make something happen," Whitman said in an interview. "These are all movements led by teens. We're the next generation of voters, our voices must be heard."
Guide to marches, walkouts:
March 14: A Women's March youth-organized nationwide school walkout to demand stronger gun control laws. The walkout will begin at 10 a.m. and last for 17 minutes to honor the 17 victims of the Parkland shooting. More information is available here.
March 24: The March for Our Lives is being organized by the students from Marjory Stoneman Douglas High School. It will be nationwide but will feature a march on Washington, D.C., to demand lawmakers pass legislation aimed at preventing mass shootings. It has drawn major celebrity donations. More information at marchforourlives.com.
April 20: A national school walkout organized by students at Ridgefield High School in Connecticut will begin at 10 a.m. with 17 minutes of silence. Then, students will be encouraged to have an open conversation about gun violence. More information at nationalschoolwalkout.us.
Today's question: Are you going to join a march or walkout on gun violence?
Please email us at trumpsamerica@mic.com with your thoughts.
Wednesday in Trump's America:
Mueller latest: Special counsel Robert Mueller secured a guilty plea from Alex Van Der Zwaan, an associate of former Trump campaign aide Rick Gates. That suggests Gates is cooperating with Mueller's investigation. The news follows reports Gates is nearing a plea deal with Mueller in the Russia inquiry.
Kushner vs. Kelly: Trump's son-in-law Jared Kushner is resisting efforts by White House chief of staff John Kelly to revoke his interim security clearance, according to the New York Times. Kelly said on Friday that he would end security clearances for any White House official whose clearance has been pending since June 1 or earlier. Kushner, along with dozens of other officials, has been working with a temporary clearance for more than a year.
Shooting fallout: Donald Trump Jr. joined conservative commentators and activists on Twitter in spreading false rumors about Parkland shooting survivors. An aide to a Florida state representative claimed two students demanding gun control are "actors who travel to various crises when they happen."
The U.S. Army posthumously awarded medals to three students in the Junior Reserve Officers' Training Corps program who were killed at Marjory Stoneman Douglas High School.
In Maryland on Tuesday, police found an AR-15 at the home of an 18-year-old high school student who was charged with bringing a handgun to school. The FBI is reviewing the performance of its tip line after it failed to act on a tip about Cruz before the Florida shooting.
Trump tweets: The president denied an allegation of sexual assault Tuesday on Twitter by saying Rachel Crooks, a woman who said Trump kissed her without her consent in 2006, created a false allegation.
Dem flip: Linda Belcher, a Democrat, won a special election in Kentucky's 49th House District on Tuesday. Her 68-32 percentage win is a 45-point improvement over Hillary Clinton's performance in the district, which Trump won by 49 points in 2016.
Another immigration fight? The deadline to pass another budget to avert a government shutdown by March 23 could be the final opportunity Congress has before the midterm elections to strike a deal on immigration. Various immigration proposals all failed to reach 60 votes in the Senate last week. Deferred Action for Childhood Arrivals recipients whose legal status has lapsed continue to face fear of deportation, while the community of 700,000 DACA recipients await Congress' decision on their fate.
Tax reform: Only a quarter of voters say they've seen their paychecks grow under the new tax law, according to a new Politico/Morning Consult poll.
Today's MicBite:
After the Parkland school shooting, politicians and adults have failed these kids — so they're taking on the NRA themselves. Click or tap below to watch.