We asked young female directors what an Oscar win for Greta Gerwig would mean to them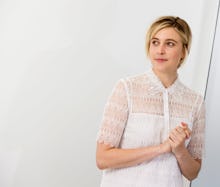 Greta Gerwig's Academy Award nomination for best director marks the first time since 2010 that a woman could win in the category — and it's just the fifth time in history that a woman has ever been nominated. So far, in the 90-year history of the Oscars, Kathryn Bigelow is the only woman to have won the award for best director.
Gerwig is nominated for Lady Bird, her solo directorial debut, a semi-autobiographical coming-of-age story she also wrote. The film focuses heavily on the complicated relationship between Lady Bird, played with plenty of teenage melodrama by Saoirse Ronan, and her mother, played by Laurie Metcalf.
For some young female directors hoping to make it in a field so dominated by white men, a Gerwig victory in March would be a glimmer of hope, another crack in a glass ceiling that has largely kept women from achieving success behind the camera. But for others, especially young women of color, 2018's crop of best director nominees is just a reminder that women of color have been shut out of the category year after year.
All five women directors who've received best director nominations have been white. Back in 2015, Ava DuVernay seemed poised to become the first black woman to receive a best director nomination for Selma — but, while Selma was nominated for best picture, DuVernay herself was snubbed.
Mathilde Suissa, a Brooklyn-based 25-year-old aspiring director currently working as a freelance production assistant, said in an email interview that Gerwig's nomination made her both "happy and sad."
"Happy that she finally got the nomination, sad that it's taken this long to only have five women nominated at all," Suissa said. "If Greta wins, it will validate that stories about women can be great and respected for their contribution to cinema and art. It will help validate that we are contenders, [that] we should be in the conversation."
But Suissa also said she was "baffled" that Dee Rees, director of Mudbound, a period drama set in rural Mississippi, was overlooked in the best director category. (Rees did make history in 2018 as the first black woman nominated for the best adapted screenplay Oscar.)
Danni Juhl, a 21-year-old film student at New York University's Tisch School of the Arts, said in an email that she's wanted to make films since she was 10. She cited Sofia Coppola, one of the five women in Oscars history to receive a best director nomination, as inspiration. And despite the fact that she doesn't follow the Oscars "that closely," she did say Gerwig's nomination makes her feel "incredibly hopeful, in a way I almost didn't know I needed."
For Emmanuella Zachariou, a 21-year-old student at the School of Visual Arts and a freelance director who watches the Oscars every year, 2018 feels like "an especially good year for women in film." Zachariou noted that in addition to Gerwig's nomination, Rachel Morrison became the first woman in history to receive a nomination for best cinematography for her work in Mudbound.
"As an aspiring director, seeing all the consideration that female filmmakers are now getting makes me feel like it's more than possible for someone like me," Zachariou said in an email. "It gives me hope and inspiration to keep going and never give up, even though a lot of people still underestimate our abilities as women on set ... If [Gerwig] wins, it would mean a lot to me and other females in the industry because it means we're only getting closer to finally feeling equal."
Hannah Ford Keohane, a 23-year-old Brooklyn-based producer, said in an email that she "always" watches awards shows. "In the past few years, I've been exceedingly frustrated by the whitewashing (and straightwashing) that goes on in/around the awards shows, but I continue to watch and root for women, queer folks and people of color," she said, adding that Gerwig's nomination made her "really frustrated" instead of hopeful.
"It's laughable (at best) that it's taken so long for their work to be deemed worthy by the Academy," Keohane said. "And I'm bewildered that amidst the height of the #MeToo movement, conversations about Hollywood continue to devolve into victim-blaming ... I'm really hoping that at the Oscars this year, powerful female creators will be recognized and applauded for the work they're doing and for battling the gender imbalance in the industry."
For Danielle Earle, a 33-year-old producer, writer and director based in New Jersey, a Gerwig victory would be a "major accomplishment," but one Earle wouldn't necessarily feel was deserved. "It's disheartening that there [have] only been five women nominated, and even more hurtful there was no consideration for black or Latino directors nominated over the years," Earle said in an email interview. "I strongly felt that Dee Rees should have been nominated for best director. Greta Gerwig's film was great, but I definitely didn't feel it was Oscar-worthy. She's a phenomenal director and writer, but I feel that the Oscars should also be supporting indie films that are directed by women of color."
As a woman of color herself, Earle said she felt especially disheartened seeing directors like Gina Prince-Bythewood, DuVernay and Kasi Lemmons overlooked by the Academy.
"It's just another reason why all women need to support one another in the film industry," Earle said. "I want to see more white women in the industry be more mindful of this divide and to include women of color in their productions — not just behind the scenes, but on camera."
Dircelene "Sissi" Torres, a 27-year-old freelance designer and aspiring director in Brooklyn, said she thought it "would be great" if Gerwig won, but added that she's still "waiting for a woman of color to be nominated."
"I'm waiting for a minority to win," Torres said. "I'm not sure Greta's win will mean as much to me personally as it will to women collectively. We still have a long way to go. We'll get there."
At least one young female director said her interest in the Oscars had waned in recent years. Rachael Moton, a 23-year-old Temple University graduate currently living in New York City, said she "used to follow award shows really closely" but that she "lost interest in awards shows because I finally realized how little recognition stories about POC truly receive. I plan on watching the Oscars this year just to see who will win, but it's definitely lost its 'magic' to me."
Moton said that as a black woman, seeing women of color being snubbed by the Academy had changed her feelings about awards season. "When I was much younger, I dreamed of winning an Oscar, but now that I'm older I just don't feel the same way," she said.
Some of the women directors who spoke to Mic were simultaneously disheartened and energized by how the Academy has so rarely acknowledged women directors. Emily Erhart, a 25-year-old director and producer at BuzzFeed, said she was both angry and hopeful that Gerwig had joined such a small group of women to be nominated for best director.
"There is a movement happening, a very real awakening of a collective female voice saying #TimesUpNow," Erhart said. "So though Greta Gerwig is only the fifth woman ever nominated for best director, it's one more nomination that shines a light on the divide. So I'm hopeful for the future of women directors. It's our time to support each other from the ground up and make our stories heard."
Madeline Stephenson, a 24-year-old film school grad and freelance script supervisor in New York City, said Gerwig's status as only the fifth woman to be nominated for best director made her feel "like I have a huge responsibility as a filmmaker."
"Obviously discouragement is warranted here, but the most important thing we can do as female artists is keep going," Stephenson said. "Our success will give us a platform to serve and build up other women in the industry. If Greta Gerwig wins an Oscar, it would be incredibly significant considering the watershed moment women are having right now. Oscars night will be a night for celebrating, and the next morning my female colleagues and I will get right back to work."