Antoni Porowski from 'Queer Eye' wants you to know — via his Instagram — that actually, he can cook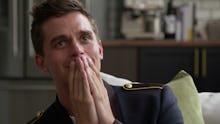 On Queer Eye, Netflix's recently released reboot of Queer Eye for the Straight Guy, the show's five recurring cast members take the lead on revamping a single aspect of each contestant's life. For fashion tips, they turn to Tan France; for a fresh hairdo, that's Jonathan Van Ness' purview; for culture and self-help, Karamo Brown's the man; the interior design expert is Bobby Berk; and for food and wine, Antoni Porowski is your guy.
But since the show came out in early February, a cheeky, half-serious narrative has been building around Porowski on social media — that maybe he doesn't actually know very much about cooking. Like, maybe he's just a hot guy who knows how to chop avocados? In fact, Junkee recently published a playful investigation in which it noted, as evidence, that Porowski continually posts things on his Instagram "that DON'T REQUIRE COOKING" — a departure, it alleged, from the usual content of celebrity chef Instagram pages.
However, a recent glance at Porowski's Instagram seems to indicate that he's aware of the doubt surrounding his expertise in the culinary world — and he's trying his darndest to counter the narrative.
The very same day Junkee published its investigation, Porowski posted the above image on his Instagram. In its caption, he instructed his followers how to cook the "haricots verts aux amandes" — French for "green beans with almonds" — that he prepared on an episode of Queer Eye. Sadly, he also noted that "not a single person has asked about them (more ppl seem intrigued by guac)."
Perhaps in an attempt to look breezy and, like, super casual about this online chatter, Porowski also uploaded footage to his Instagram story in which he is actively cooking some fresh pasta. From scratch. Like a real chef.
That's right, no avocados in sight, folks. In a subsequent clip, once he finished cooking the pasta, he announced what he made, to the tune of the Red Robin jingle.
"Fresh pasta," he said, drawing out the "e" in "fresh." "With tomato sauce."
Porowski also liked a recent tweet posted by New York Times reporter Liam Stack, in which he noted the importance of this very Instagram story as a potential piece of evidence proving that Porowski can actually cook.
It's OK, Antoni. We see you. Don't pay attention to the haters. I hope the pasta was really good.