Parkland shooting survivor slams right-wing conspiracy theorists attempting to smear him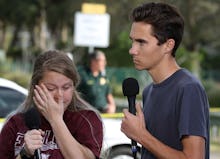 David Hogg, a 17-year-old survivor of the mass shooting at Marjory Stoneman Douglas High School on Feb. 14, fought back against right-wing conspiracy theorists who have tried to smear him for demanding gun reform.
Conspiracy theorists have pushed a handful of false narratives about Hogg, accusing him of everything from being "coached" by his former FBI agent father to being a pawn of anti-gun groups, and the worst of the bunch, that Hogg is a paid "crisis actor" who didn't actually survive the shooting.
In fact, the number one trending video on YouTube Wednesday morning was clip falsely accusing Hogg of being an actor.
Hogg is defending himself against the conspiracies, which have made their way into the mainstream after being liked by Donald Trump Jr. on Twitter and pushed by former Rep. Jack Kingston (R-Ga.), who is now a CNN contributor.
"I'm not a crisis actor. I'm somebody that had to witness this and lived through this, and I continue to have to do that," Hogg said Tuesday night on CNN.
Hogg, along with his fellow classmates and survivors of the mass shooting last week, are also facing attacks from conservatives and gun rights advocates, who have questioned why teenagers' political activism should be taken seriously.
"The big question is: should the media be promoting opinions by teenagers who are in an emotional state and facing extreme peer pressure in some cases?" disgraced former Fox News host Bill O'Reilly tweeted on Tuesday.
Some Republicans have called out the conspiracy theorists.
"Claiming some of the students on tv after #Parkland are actors is the work of a disgusting group of idiots with no sense of decency," Sen. Marco Rubio (R-Fla.) tweeted Tuesday evening.
Meanwhile, Hogg said he isn't going to back down from his activism, despite the fake conspiracies.
"You can't stop us you never will and you never can we have the strength and grit to last far longer than these politicians will that's for damn sure," Hogg tweeted Wednesday morning, adding the hashtag #MidtermsAreComing and #NeverAgain.
On Wednesday, Jim Hoft — whose far-right conspiracy laden website Gateway Pundit has been pushing these conspiracies — said he was un-invited from the Conservative Political Action Conference in Maryland this week for his smears against Hogg.