What does Afrofuturism look like in food? We imagined a feast fit for Wakanda royals.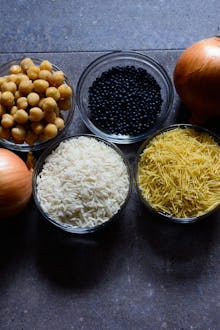 Wakanda, the Afrofuturistic society in Black Panther, celebrates many beautiful aspects of African culture and tradition like never before. A lot of Black Panther fans are jubilant at this watershed moment in black, big-screen representation. As a food blogger focused on African foods, I was filled with an added sense of optimistic relief. Most indigenous Africans like myself will attest that this current awakening is an inward view of Africa that we have prided ourselves on knowing all along.
While Wakanda is a fictional country in Africa, it is an amalgamation of many alluring and existing cultures of different African countries. To honor the power of disparate parts becoming a colorful, coherent whole, I created recipes for a meal consisting of koshari (also spelled "koshary" and "kushari") and kelewele, two street foods that hail from Egypt and Ghana, respectively. Koshari is a dish composed of rice, beans, pasta and a chickpea and tomato sauce, while kelewele is a sweet and spicy snack of fried, spiced plantains topped with peanuts. Kelewele is common in Accra, Ghana, but also appears in Nigeria, where it is called dodo.
Together, the two dishes reflect the best parts of Wakanda. The koshari is an ode to Afrofuturism and Egypt, an African nation known for ancient technology, science and mathematics. This country is also the home place of the fictional Heliopolitan deities worshipped by the Wakandans in the Black Panther comics. Meanwhile, the kelewele pays homage to the Dora Milaje, warrior women who surround and protect the Wakandan king in the Black Panther movie. (They also serve as candidates for his wife and queen of Wakanda in the comics.) The combination of sweet and spice of kelewele reflects how the Dora Milaje are equally feminine and tough, making them feared and respected in the Marvel universe. The kelewele also serves as a sweet balance to the strong flavors of the koshari. Both these dishes happen to be vegan — and suitable for the vegetarian Jabari tribe.
Koshari
Ingredients
1 28-ounce or 1-pound can plum or Roma tomatoes
Preparation
1. Slice the onions lengthwise.
Kelewele
Ingredients
1/2 Scotch bonnet pepper
Preparation
1. Mix the Scotch bonnet pepper, onion, ginger, grains of selim, alligator pepper seeds and cloves to a rough paste. You can use a mortar and pestle or a blender.
Lois Oviawe and her husband Femi Ologhobo run Yummy Medley, a blog focused on African and Afro-tropical foods. They are both originally from Nigeria, and are currently based in Baltimore.