"Tremendously shocking": New data shows just how bad Hollywood's sexual misconduct problem is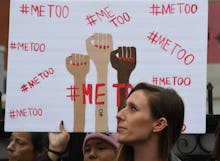 The #MeToo movement has helped expose Hollywood's culture of sexual harassment — but a staggering new survey demonstrates just how widespread the problem really is.
In a USA Today survey of 843 women in the entertainment industry released on Wednesday, a staggering 94% of respondents said they had experienced some form of sexual violence during the course of their careers.
The poll is a grim reminder of the insidiousness of harassment in Hollywood, and the ways in which the industry's nontraditional structure creates additional obstacles in the already-difficult business of reporting misconduct.
Although many of the recent reports of abuses in entertainment have come from actresses and performers, the report was culled from the experiences of women in a variety of roles within the entertainment industry, including directors, writers and producers.
USA Today partnered with the Creative Coalition, Women in Film and Television and the National Sexual Violence Resource Center to help track sexual harassment data in the entertainment industry. In a phone interview on Wednesday, the NSVRC's communications director, Laura Palumbo, said that the numbers the survey returned were "higher than anyone expected."
"The most commonly used national number is that around 60% of women in the workplace have experienced sexual harassment," Palumbo said. "Even though we knew it was a conservative estimate, to see that it was this ubiquitous in Hollywood and that nearly all of the survey participants were disclosing these experiences is tremendously shocking."
And as stunning as that 94% might seem, the survey numbers tell an even darker story when broken down further: Of the women who came forward to report their experiences, only 28% said that disclosing the harassment improved their working conditions.
"That's very dismal, that people are very often feeling like they do not trust the system," Palumbo said. "Victims of harassment in Hollywood, just like victims of harassment across workplace contexts, are not reporting, and they're not reporting because they fear personal and professional reprisal."
Palumbo said that when it comes to taking the first steps toward reducing the problem of harassment and gendered power imbalances in Hollywood, actionable measures do exist: improving the existing reporting options, creating workplaces where individuals feel that they'll be supported if they come forward and introducing clearer anti-sexual harassment policies are all high on her list of options.
"This is not an isolated issue, this is not an individual issue, this is a systemic issue and we need to change the culture," she said. "To really normalize the fact that sexual assault and sexual violence aren't tolerated — everyone has a role to play in that."