"We will not be silenced": Parkland students demand action on gun control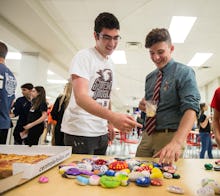 Teenage survivors of the Feb. 14 mass shooting at Marjory Stoneman Douglas High School in Parkland, Florida, rallied at the state Capitol in Tallahassee on Wednesday to demand that their lawmakers take action on gun control, delivering speeches about how they will not relent until change takes place.
Shooting survivors told their stories of survival, what they lost and how they will not let conspiracy theorists hold them back from demanding change.
"We will not be silenced," shooting survivor Alfonso Calderon said in a speech. "It has gone on long enough that we, just because we are kids, we are not allowed to understand. But trust me, I understand."
The students who spoke had traveled to Tallahassee to meet with state lawmakers and demand gun reform. However, most lawmakers refused to meet with them, students said, adding in their speeches that they were discouraged by being brushed to the side.
On Tuesday, students from Marjory Stoneman Douglas High School sat in the gallery of the Florida House chamber to watch their lawmakers refuse to debate a gun control bill. Instead, those very same lawmakers voted to declare pornography a public health risk.
Senior Ryan Deitsch said he has a plan to make his voice heard to those lawmakers. "The more they don't act, the more they don't deserve to be in office," he said in a speech. "I'm 18 myself now, I can vote, and I know who I'm not voting for."
As the students spoke at a news conference inside the state capitol, hundreds of other young activists gathered outside on the steps of the building for a rally calling for change.
And across the country, hundreds of other students walked out of class to demand gun reforms, including students in Washington, D.C., who gathered at the U.S. Capitol for a rally.
It's unclear whether these student activists will bring about change at the state or federal level. However, Republicans seem to be more open to gun reform, including President Donald Trump, who ordered Attorney General Jeff Sessions to look into creating a regulation on banning bump stocks, which are devices that can be added to semi-automatic weapons that let them mimic the speed of fully automatic rifles.
Sen. Jeff Flake (R-Ariz.) said on Wednesday that he's introducing a bill to raise the age to purchase an AR-15 — the deadly weapon used to slaughter 17 students and staff members at Marjory Stoneman Douglas High School.
"A kid too young buy a handgun should be too young to buy an #AR15," Flake tweeted. "Working with @SenFeinstein on a bipartisan bill that will raise the minimum purchase age for non-military buyers from 18 to 21 — the same age you currently have to be to purchase a handgun."
The White House is also supporting a bill by Sen. John Cornyn (R-Texas) that requires state and federal law enforcement authorities to report criminals to the National Instant Criminal Background Check System. Essentially, the bill demands that authorities follow existing laws.
However, conservative House lawmakers are balking even at that proposal, according to Politico's Rachael Bade, who reported that Rep. Jim Jordan (R-Ohio) said the bill would "let bureaucrats take away individual's liberties."
The students who spoke in the Florida capitol on Wednesday, however, said they are determined to push change.
"We know what we want," Student Delaney Tarr said. "We want gun reform, we want common sense gun laws, we want stronger mental health checks and background checks to work in conjunction, we want a better age limit, we want privatized selling to be completely reformed so you can't just walk into a building with $130 and walk out with an AR-15. We want change, and we know how to get this change."