The Atlanta airport dreamed up a flight to Wakanda — and it's a trip we want to take right now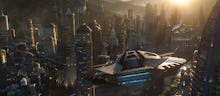 Wheels up to Wakanda!
On Monday evening, the Atlanta airport tweeted a dream scenario: a photo of a boarding gate display that read "Wakanda, 7:30 pm" with the caption "The bags are packed #WakandaForever."
Naturally, Black Panther fans got on board immediately. The tweet had over 14,3000 retweets and over 31,000 likes as of Wednesday afternoon.
The inspiration for the tweet was a video featuring Darius Williams, a Atlanta-based chef, said Andrew Gobeil, deputy director of the Office of Policy and Communications at Hartsfield-Jackson Atlanta International Airport, in an email. In the video, Williams recorded a playful phone call requesting a travel agent book him a flight from Atlanta to Wakanda. Gobeil explained that the team also wanted to add to the positive social media discussions around the movie because Black Panther was partially filmed in Atlanta.
"It's been a joy to see our tweet take off (see what we did there?)," Gobeil said.
But the social media team behind the world's busiest airport didn't stop there. In subsequent tweets, they responded to questions about the food on board, saying the in-flight meal will include "Sorghum, millet, rice, maize, peanuts, potatoes, beans, yams and okra." Gobeil said that Williams, the local chef who inspired the original tweet, would likely be the right person to turn the meal into reality. (His YouTube channel, with dishes like jerk shrimp and carrot cake Twinkies, sure looks like a serious upgrade from regular airplane food.)
As for the flight attendant uniforms, Gobeil said the design decision should be left up to the experts. "Ruth Carter incorporated bright colors, African tradition and Victorian-era fashion in her costume design for the Black Panther. Perhaps she can help us," he said.
Lupita Nyong'o, the Tony award-winning actress who stars in Black Panther, joined the conversation on Twitter with a slew of excellent puns about the in-flight entertainment, suggesting movies like T'Challa's Angels and M'Baku To The Future.
The ATL social team fired back with some equally excellent wordplay for the flight soundtrack.
Cast member Forest Whitaker, who plays royal advisor Zuri, already has his bags packed — and the rest of the cast can't be far behind.