In an epic game, the US women's ice hockey team beats Canada to win gold during shootout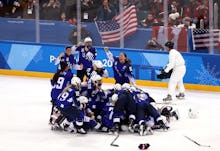 During the Winter Olympics, Mic is tracking a group of athletes who are smashing records and breaking boundaries. To follow the coverage, visit our Olympics hub.
Early Thursday morning, the U.S. women's ice hockey team triumphed as it beat Canada during the shootout in the gold medal game in Pyeongchang, South Korea. It was a rematch of the heartbreaking-yet-epic game at the 2014 Olympic Games, when Team Canada beat the American women's ice hockey team during overtime. Canada has won the past four Olympic gold medals for women's ice hockey.
During the first period, Team USA's Hilary Knight scored a goal with 25 seconds left. In the second period, Canada scored two goals — one by Haley Irwin and one by Marie-Philip Poulin. With six minutes left in the final period, Monique Lamoureux-Morando of the United States scored, tying the game. Both teams left everything they had on the ice during the sudden-death overtime, but neither team scored, leading to a shootout.
The shootout ended on the sixth shot, with Team USA winning the shootout 3-2.
The U.S. women's ice hockey team has performed impressively at the Olympic Games this year. It beat Finland 5-0 in the quarterfinals. In the preliminary rounds, it also beat out Finland and Russia and lost to Canada 2-1.
The U.S. team has won seven of the past eight world championships, but has not won an Olympic gold since 1998, when the American women beat the Canadians at the Nagano Games. That was also the first year women's hockey was a sport at the Olympic Games.
Feb. 22, 2018, 11:48 a.m.: This article has been updated.