Trump signs on to gun control measures. But his call to arm teachers could thwart their passage.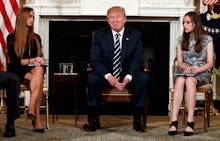 President Donald Trump said Thursday that he supports comprehensive background checks, raising the age to purchase firearms to 21 and ending the sale of bump stocks — gun reforms that would come as welcome news to the student activists from Marjory Stoneman Douglas High School who are pushing for change in the wake of the mass shooting that killed 17 of their teachers and classmates.
"Congress is in a mood to finally do something on this issue - I hope!" Trump tweeted Thursday morning.
However Trump's call to action on guns came after a four-part tweetstorm in which he also called for teachers to be armed in schools — a proposal that will likely be a non-starter in Congress.
In the tweetstorm, Trump completely contradicted himself. He falsely claimed that he never said he wants to arm teachers during a listening session at the White House on Wednesday with people touched by gun violence.
"I never said 'give teachers guns' like was stated on Fake News @CNN & @NBC. What I said was to look at the possibility of giving 'concealed guns to gun adept teachers with military or special training experience - only the best,'" Trump tweeted, contradicting himself in the same breath as he explains that he does, in fact, want to arm teachers.
In subsequent tweets, Trump went on to explain how he wants to arm teachers, contradicting his initial statement even further.
"History shows that a school shooting lasts, on average, 3 minutes. It takes police & first responders approximately 5 to 8 minutes to get to site of crime. Highly trained, gun adept, teachers/coaches would solve the problem instantly, before police arrive," Trump tweeted. "GREAT DETERRENT!"
If Trump demands that measure be tacked on to the other gun reforms he supports, that could become whats known as a "poison pill" that sinks passage of new gun laws.
A number of lawmakers have already come out against arming teachers in classrooms. Those lawmakers include Sen. Marco Rubio (R-Fla.), who said he's against that proposal during a CNN town hall with survivors and families who lost loved ones in the shooting at Marjory Stoneman Douglas High School.
Trump is no stranger to calling for poison pill amendments.
Trump and his anti-immigration White House aides successfully used poison pills to thwart passage of legislation that would have offered permanent protections to undocumented immigrants covered by the Deferred Action for Childhood Arrivals program. He demanded that Congress also make cuts to legal immigration in order to make DACA permanent, a demand that fell far short of a majority, even in the GOP-controlled Senate.