The 9 proposals that have emerged to prevent shootings — and their chances of passing in Washington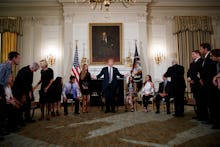 Welcome to Mic's daily read on Donald Trump's America. Want to receive this as a daily email in your inbox? Subscribe here.
Thursday's Dispatch: What lawmakers propose
President Donald Trump held an hour-long listening session with school shooting survivors Wednesday afternoon. Later, Florida Sens. Marco Rubio, a Republican, and Bill Nelson, a Democrat, faced questions during a CNN town hall with student survivors of the Marjory Stoneman Douglas High School shooting. And members of Congress nationwide weighed in on how America should respond to the murder of 17 people in Parkland, Florida, on Feb. 14.
Several proposals have emerged on gun control, including some backed by Trump that have little chance in Congress but which proponents say would prevent future mass shootings, particularly at schools. It's also important to know that how effective these proposals would be in preventing future shootings is not a factor in whether they are likely to pass. Lawmakers are not necessarily considering the best ideas; they're considering the ones they see as politically feasible. We rank them below, based on the chance they have to advance in Congress.
1) Banning bump stocks. Before Trump's meeting Wednesday with survivors of the Stoneman Douglas shooting, the president had already directed Attorney General Jeff Sessions to create a regulation that banned the sale of bump stocks. Bump stocks are a modification that allow semi-automatic rifles to mimic automatic fire. Members of Congress and the National Rifle Association have also said they support passing this ban through Congress, which many argue is necessary as it's not clear Sessions has the authority to stop the sale of bump stocks.
Important read: How the banning of bump stocks became gridlocked after the Las Vegas shooting. (Watch for this to happen again.)
2) Improving background checks. Again, Trump, along with many Republicans and the NRA, has favored legislation that would require federal and state agencies to better report criminal history to the FBI. They hope this will close loopholes and prevent criminals from buying guns. A bill that does this will be considered in the Senate next week. Even this proposal may hit a roadblock, however, as House Republicans continue to demand this legislation advance with a provision that would allow owners of concealed guns to carry their firearms over state lines — a nonstarter for Democrats.
3) Increasing mental health funding. This is the top idea conservatives and the NRA propose to address mass shootings. Many Democrats also lump "mental health" in with other ideas to prevent future shootings. Trump also supports increasing mental health funding to prevent future shootings, but few specifics have emerged about where the president would look for greater investment in mental health care. Medical professionals have repeatedly said tying mental illness to mass shootings is not supported by facts.
4) Passing firearms restraining orders. When law enforcement or immediate family members feel someone is a danger to themselves or others, a firearms restraining order would let police temporarily remove and prevent gun purchases by that person. California's restraining order law went into effect in 2016. Instead of agreeing to support the assault weapons ban, some Republicans have proposed implementing these restraining orders. Rubio, for example, supports this idea. These orders run afoul of the NRA, however, because they allow the right to own a gun to be temporarily revoked.
5) Creating an age limit for some gun purchases. The president signaled an openness Wednesday to raising the age required to purchase a semi-automatic rifle to 21 years old. In Florida, the 19-year-old school shooter was able to buy an AR-15, but he could not have bought a handgun until he was 21. While senators are working on legislation that would raise the purchase age for guns to 21, opposition from the NRA and conservatives will likely prevent this idea from advancing in Congress. The NRA gave tens of millions of dollars to Republicans in the last election.
6) Arming teachers. While meeting with survivors at the White House, Trump said Wednesday afternoon that he wants to see teachers and aides armed at schools nationwide to prevent further mass shootings. That's a nonstarter for Democrats, whose votes would be needed in the Senate to pass legislation requiring or funding armed teachers, and key Republicans are opposed. Rubio voiced his opposition to the idea hours after Trump said he supported it. Half a dozen states are considering legislation to ease restrictions on firearms in schools, but teachers and law enforcement are typically opposed to such proposals.
7) Banning high-capacity magazines. Rubio floated this as a possible solution to mass shootings Wednesday at the CNN town hall, saying his views on whether Americans should be able to buy magazines that fire dozens of rounds before needing to be reloaded had changed. Democrats have long wanted to limit the sale of high-capacity magazines, defined in the 1994-2004 Assault Weapons Ban as a clip that held more than 10 bullets. This is a nonstarter in Congress, though, because the NRA and most Republicans view this as too restrictive.
8) Creating universal background checks. After past mass shootings, lawmakers have proposed requiring ending the "gun show loophole" and screening people on the terrorist watch list to ensure background checks are universal and comprehensive. That legislation has repeatedly run afoul of NRA opposition and not advanced in Congress. Yet in a recent poll, nearly 100% of Americans said they support universal background checks on gun purchases.
The Fix NICS Act, the background check legislation the Senate will consider next week, only aims to improve the existing background check system. It would not extend checks to the sale of tens of thousands of guns at thousands of gun shows each year.
9) Banning military-style "assault weapons." This is almost certainly dead on arrival in Congress. While Democrats have introduced and pushed legislation to ban more than 200 semi-automatic and military-style firearms, Republicans refuse to consider the legislation. The ban that was in effect from 1994-2004 was initially wildly popular politically. Now, Americans are evenly split in their approval and disapproval of the law.
On Thursday morning, the president laid out his position on Twitter: "I will be strongly pushing Comprehensive Background Checks with an emphasis on Mental Health. Raise age to 21 and end sale of Bump Stocks! Congress is in a mood to finally do something on this issue — I hope!"
Today's question: Which of these proposals do you think has the best chance of passing Congress?
Please email us at trumpsamerica@mic.com with your thoughts.
Thursday in Trump's America:
Shooting fallout: Students at high schools across the country walked out of class Wednesday to show solidarity with students at Stoneman Douglas High School in Parkland, Florida. Some school districts threatened to punish students who leave school.
During the Wednesday night CNN town hall, facing questions from survivors of the shooting, Rubio changed his position on multiple gun rights issues. The jeers of a crowd that included the families of shooting victims drove Rubio to reconsider long-held positions.
During a listening session at the White House, students implored Trump to make changes to prevent mass shootings. Students debated what those changes should be. And a photo from the event captured Trump holding a reminder of what to say to the shooting survivors.
2018: Sen. Chuck Schumer (D-N.Y.) and Rep. Nancy Pelosi (D-Calif.) requested more than $300 million on Wednesday to protect U.S. elections in 2018. That comes as intelligence officials say Russia continues to meddle in American politics while the president does not intervene.
Syria: Since Sunday, more than 335 people have been killed in one of the last rebel strongholds in Syria, east of the capital city of Damascus. The United Nations and humanitarian groups are demanding a ceasefire as women, children and rebel fighters die by the dozens each day under prolonged bombing by the Syrian government. The U.S. condemned the attacks, backed by Russia, but has not seriously intervened.
GOP Senate candidates: Republicans running for the Senate in 2018, from Mitt Romney to (potentially) Sen. Bob Corker (R-Tenn.), are looking to improve relations with the president.
Montenegro: A man threw a grenade at the U.S. embassy in Montenegro overnight before blowing himself up. No one was injured.
Russia: The president called on his attorney general to investigate former President Barack Obama over his handling of Russian meddling in the 2016 U.S. election.
New reports say special counsel Robert Mueller is now investigating whether former Trump campaign chairman Paul Manafort made a quid pro quo deal with a Chicago banker for $16 million in loans in exchange for offering the banker a spot in the White House.
White supremacist shift: The number of Ku Klux Klan groups has dropped as the number of neo-Nazi organizations has increased. The activity of online alt-right groups has increased, as have the number of black nationalist groups.
Today's MicBite:
These two Olympians just made history by being the first American women to win a medal in cross-country skiing.