The good, the bad and the telling about New York Fashion Week's latest diversity report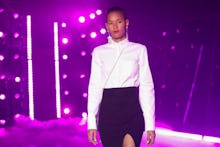 Now that the giant, wide-brimmed hats from the Marc Jacobs show have been put away, and the popcorn coating the Calvin Klein show has been shoveled elsewhere, it's time to look at some of the finer details of New York Fashion Week. Namely, its diversity.
Thanks to a new report from the Fashion Spot, which painstakingly tracks diversity at fashion weeks across the world, we now know that the fall/winter 2018 NYFW season was the most racially diverse on record.
After surveying 82 major shows in New York City, and 2,289 model appearances, the Fashion Spot found that while 62.7% of models who walked were white, 37.3% were models of color. That's a very slight uptick from September's NYFW, which had 36.9% models of color.
Of the most racially diverse shows, there was Gypsy Sport with 80% models of color; Chromat with 72.7% models of color; Matthew Adams Dolan, Jeremy Scott and Brandon Maxwell each with 70% models of color; and Alexander Wang with 65.1% models of color.
Though there were no shows that had entirely white casts, a few lagged far behind the Gypsy Sports of the world. Vivienne Hu cast just two models of color out of her 18-person show, and Jill Stuart cast just four models of color among her 29.
Among the 19 most-booked models of the week, nearly half were models of color, including Shanelle Nyasiase who booked 13 shows and Nandy Nicodeme who booked 11.
Transgender and nonbinary models also saw an uptick in representation in the Fall 2018 season. There were 33 transgender and nonbinary model castings, spread across 23 shows. In September, there were 31 castings. This uptick and spread across runways is largely thanks to the great Teddy Quinlivan, who walked in major shows including Alexander Wang, Oscar de la Renta and Carolina Herrera.
Now here comes the bad news. The number of plus-size and curve models actually dipped dramatically. In September, size diversity was helped greatly because of two entirely plus-size brands' — Torrid and Addition Elle. That season, there were a whopping 90 plus-sized and curve model appearances.
For fall/winter 2018, without a Torrid or Addition Elle show, the number of plus and curve castings dipped to 26, and they walked in just eight New York shows, accounting for a measly 1.1% of all castings. In September, even without counting Torrid and Addition Elle, there were 34 plus and curve castings.
In terms of shows that are responsible for helping this percentage along, there was Christian Siriano, who cast 10 plus-size and curve models in his show, as well as Chromat, which had nine plus and curve models.
With progress being made in terms of racial and transgender and nonbinary visibility during NYFW, this feels like a huge bummer.
"I think what is most telling in this report is that there are still just a handful of designers doing all the heavy lifting," Jennifer Davidson, the editor-in-chief at the Fashion Spot, said in an interview. "Racial diversity has been solidly over 30% since fall 2016, with just slight increases each season as we inch towards 40%. Age, size and transgender representation is still fluctuating and comparatively very low. Progress is still painfully slow."
With the diversity at London Fashion Week, Milan Fashion Week and finally Paris Fashion Week set to be analyzed, it'll be interesting to see if these particular trends continue.