"Media love mass shootings": NRA spokeswoman flips tone hours after CNN town hall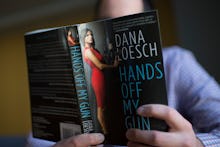 On Thursday morning, National Rifle Association spokesperson Dana Loesch tossed aside the civil tone she had exhibited at a CNN town hall on gun violence roughly 12 hours earlier, and spoke to her group's base against the media and the FBI during a speech at the Conservative Political Action Conference in Maryland.
"Many in legacy media love mass shootings," Loesch told the audience at CPAC, one of the largest annual gatherings of conservatives. She went on to speak directly to reporters covering the event in National Harbor, Maryland.
"Now I'm not saying that you love the tragedy — but I am saying that you love the ratings," Loesch said, accusing the media of loving to cover "crying white mothers" but not the black mothers who lose children from gun violence in cities like Chicago.
"We will not be gaslighted into thinking that we were responsible for a tragedy that we had nothing to do with," Loesch told the crowd.
Loesch was followed by NRA CEO Wayne LaPierre, who went after everyone from Democrats to the FBI as he sought to defend the NRA's position on guns.
"The elites don't care not one wit about America's school system and school children. If they truly cared, what they would do is protect them," said LaPierre. "Their goal is to eliminate the Second Amendment, and our firearms freedoms."
LaPierre earned more than $5 million from his role at the NRA in 2015, according to tax records.
Loesch and LaPierre's speeches come a little more than a week after the Feb. 14 mass shooting at Marjory Stoneman Douglas High School in Parkland, Florida, which left 17 students and staff dead.
The NRA, which has been silent after previous mass shootings such as the one in Las Vegas in October that killed 58 people, has been noticeably vocal after the Parkland shooting.
In the aftermath of the mass shooting, students have started a nationwide movement to call for gun reforms. Some Republicans, including President Donald Trump, have appeared open to gun control legislation.
Trump said Thursday that he supports everything from background checks to raising the age to purchase a rifle — changes the NRA is opposed to. On Wednesday night, Sen. Marco Rubio (R-Fla.) also said he supports gun reforms, including possibly limiting gun magazines.