Get to know the cast of 'RuPaul's Drag Race' season 10, revealed during 'All Stars 3'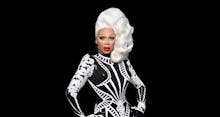 At the end of episode five of RuPaul's Drag Race All Stars 3, mother Ru finally revealed the cast of season 10, which looks as though it'll premiere the week immediately following the finale of All Stars 3.
If you haven't been keeping up with the Drag Race subreddit, these reveals likely shook you to your core. But if you have been following along, then this announcement shouldn't have been a surprise — the Nancy Drews had this cast clocked for months.
So without further ado, here's a quick rundown of every single queen you'll see on season 10 of Drag Race starting March 22 on VH1.
Aquaria
At just 21 years old, this New York City-based queen has already made quite a name for herself — both in the club scene and elsewhere. She's quickly accrued a massive social media following for her transformative, internet culture-based looks, like Sophia the robot and the confused math lady. Aquaria is also the drag daughter of Sharon Needles, the winner of RuPaul's Drag Race season four.
Asia O'Hara
Asia O'Hara is a talented Texas-based queen who has a history of competing in — and winning — pageants, like Miss Gay America and Miss Gay USofA. She's known primarily for her talents as a dancer, but Asia is also the drag mother to Phi Phi O'Hara, who competed on both RuPaul's Drag Race season four and All Stars 2.
Blair St. Clair
Blair St. Clair is a theatre-obsessed queen who — in addition to performing as a queen in Indianapolis — can also sing, dance and act.
Even though season 10 hasn't even begun, Blair has already made headlines in the Drag Race world. In October, TMZ reported she had been arrested during the filming of season 10 for violating a court order that said she couldn't leave her home state of Indiana for a full year following an earlier arrest for a DUI.
Dusty Ray Bottoms
Dusty Ray Bottoms is a New York City queen who performs in both clubs and competitions, like So You Think You Can Drag. She usually sports artistic, punk-influenced looks with big hair and elaborate, painterly makeup.
Eureka O'Hara
Eureka's appearance in season 10 won't come as a shocker to anyone who watched season nine. In the middle of the season, she had to leave the competition due to a knee injury she sustained during the cheerleading challenge, but RuPaul told her she had an open invitation to come back for the following season.
In season nine, her main arc revolved around a long-standing feud with Trinity Taylor, but she also was a strong competitor in her own right. Despite the same last name, she has no relation to Asia or Phi Phi O'Hara.
Kalorie Karbdashian Williams
Unlike the other queens from major metropolitan areas, Kalorie hails from Albuquerque, New Mexico. She's a self-identified #thicc queen who, in a recent video posted to Facebook, lost her wig mid-performance — and seemed entirely unbothered by it.
Kameron Michaels
Kameron, a Nashville, Tennessee-based queen, describes herself as a "body builder Barbie" on her Instagram. Covered in tattoos, Kameron tends to opt for edgy, fantastical looks and is completely unafraid to let her massive biceps show when she's all dragged up.
Mayhem Miller
Mayhem hails from southern California, where she performs in clubs all over the Los Angeles area and beyond. She's also very close to Morgan McMichaels, the certified villain of All Stars 3 who was eliminated in episode one.
Miz Cracker
Miz Cracker is a goofy, snappy comedy queen based in New York City. She also has a presence on YouTube, where she has recently started posting videos in a series, Review with a Jew. According to Drag Race's Facebook Live following Thursday's All Stars 3, Miz Cracker started doing drag at the suggestion of Bob The Drag Queen.
Monét X Change
Monét is a New York City-based queen who is good friends with Bob the Drag Queen, the winner of season eight. Monét was also featured in Slate in September 2016 for a short-form video project she posted on her Facebook. She is also a trained opera singer.
Monique Heart
Monique hails from Kansas City, Missouri, where she recently won the Miss Gay Kansas City pageant. In a video from 2016, you can see one of her lip syncs to a Jill Scott song, which includes both an outfit and a wig reveal.
Vanessa Vanjie Mateo
Vanessa lives and works in Tampa, Florida. Aside from being a skilled dancer, she's particularly talented at painting her face. Vanessa's drag mother is Alexis Mateo, who competed on season three of Drag Race and the original All Stars.
The Vixen
The Vixen is a Chicago queen, who, in an appearance on the web series Cooking with Drag Queens, identified herself as "a club kid and a showgirl" who values energetic performing over pure looks.
Yuhua Hamasaki
Yuhua's yet another New York City-based queen who not only performs in drag, but also regularly creates costumes for others, like Bob the Drag Queen and season nine native Peppermint.