Netflix's 'Ugly Delicious' docuseries will make you want to be best friends with David Chang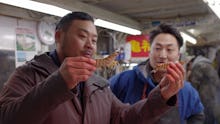 If you have an insatiable appetite for food TV that's not afraid to mix politics and pizza, add Netflix's Ugly Delicious to your watch list, stat. The newest show from Momofuku chef and serial restaurateur David Chang begins streaming online starting Feb. 23. (Netflix's last food show, Rotten, also covered the intersection of food and politics, from a policy perspective.)
Soon after Chang's Momofuku Noodle Bar opened in New York City in 2004, the accolades started rolling in for the Korean-American chef. He's grown a restaurant empire, narrated the first season of the PBS series Mind of a Chef and recently served as an NBC food commentator during the Olympics. But Ugly Delicious gives him a new and larger platform, one where his grounded personality, smart food takes and infectious humor help him tell really, really cool stories about food and identity.
The series contains eight standalone episodes that follow Chang and food writer (and co-founder of food magazine Lucky Peach) Peter Meehan as they travel the world, eating their way through an enviable amount of mouthwatering food. They are joined by a squad of celebrity friends including Ali Wong, Eric Wareheim, Nick Kroll, Aziz Ansari and Jimmy Kimmel, who all eat, chat and crack jokes with the pair. But it's Chang and Meehan who anchor the show and drive its most interesting conversations. Each of the eight episodes is centered around one food: pizza, tacos, BBQ, shrimp and crawfish, fried chicken and dumplings all get their time in the spotlight.
The show often explores the idea of authenticity and identity in food. In the first episode, Chang and Meehan explore pizza in all its glorious forms. From sampling famed Brooklyn pizzeria Lucali to exploring what makes Domino's kitchen and delivery so efficient, the duo encourages fierce debate about the various merits of "authentic" dishes and how food can still be good or even great despite it being far from authentic. As Chang points out, Domino's evokes nostalgia for him. (The proprietor for Lucali, meanwhile, threatens to kick Chang out if he ever eats Domino's in his restaurant again.)
The title Ugly Delicious comes from #uglydelicious, a hashtag Chang uses on Instagram. It almost perfectly reflects the show's ethos: It doesn't wade in the shallow waters of only featuring Instagram-friendly food trends or borderline pornographic shots of food — it dives right into showing the dirty work of bringing food from farm to table or discussing the American tradition of cultural appropriation. The show is not, in fact, dedicated to ugly food.
In one episode, Chang spars with comedian Ali Wong over why Yelp is (or isn't) trustworthy, and the show infuses the heady topics with fun banter. Visually, the show often interjects colorful animations, like flashing text showing pop song titles with a pizza-themed spin. (Rolling in the Deepdish and Mozzarellaback Girl, anyone?)
At the end of the day, Chang's show is a testament to the fact that food and identity are complicated issues with no definitive answers. It underscores that people can agree and disagree about what constitutes good food. Chang encourages debate among the roving cast of food industry characters, which makes the show all the more amusing. Food isn't good or bad — it's a conversation starter.