Indictment alleges Manafort and Gates laundered over $30 million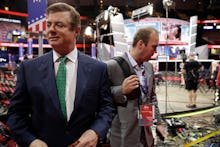 Paul Manafort, the former chairman of Donald Trump's presidential campaign, allegedly laundered more than $30 million with his longtime associate Rick Gates, according to a new indictment released by special counsel Robert Mueller on Thursday.
Manafort, who helmed the Trump campaign during the summer of 2016, had already been indicted in October on a charges of conspiracy against the United States, failure to register as a foreign agent and several financial crimes, including conspiracy to launder money.
Manafort and Gates, who faced the same 12 charges as his longtime associate, each pleaded not guilty to the charges. But in the superseding indictment, Mueller has now leveled 32 charges against the pair that includes false taxes, failure to report foreign bank and financial accounts and a series of bank frauds and bank fraud conspiracies.
"In total, more than $75,000,000 flowed through the offshore accounts," the new indictment alleges. "Manafort, with the assistance of Gates, laundered more than $30,000,000, income that he concealed from the United States Department of the Treasury, the Department of Justice, and others. Gates obtained more than $3,000,000 from the offshore accounts, income that he too concealed from the Treasury, the Department of Justice, and others."
The new charges, which were first reported on Wednesday, come amid reports that Gates is nearing a plea deal with Mueller, whose investigation into the Trump campaign's involvement in Russia's 2016 election interference, along with possible obstruction of justice on the part of the president, heats up.
Gates, who served as deputy chairman on the Trump campaign and worked on the president's inaugural committee, was also named in an indictment against Alex Van Der Zwaan, who pleaded guilty to lying to the FBI on Tuesday.
Van Der Zwaan — the son-in-law of a Russian oligarch who was named in the controversial Steele dossier — admitted to misleading investigators about his communications with Gates, as well as failing to provide the special counsel with emails he'd requested. The Ukraine-connected attorney also admitted to misrepresenting his role in a report about former Ukrainian Prime Minister Yulia Tymoshenko.
The indictment of Van Der Zwaan has suggested that the reports about Gates' cooperation with Mueller may be true.
The White House has downplayed the significance of a Gates guilty plea in recent days.
"There'd be no anxiety here," a spokesperson told CNN last week.