Who's Sorry This Week? Fergie, Quincy Jones, Harvey Weinstein and other celebrity apologies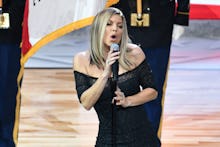 Another week, another round of apologies!
In "Who's Sorry This Week?" Mic tracks down the most prominent mea culpas from celebrities, companies and other public entities trying to make amends for their public screw-ups.
The deck was stacked this week: From Quincy Jones walking back some off-the-wall interviews to Fergie apologizing for her artistic interpretation of the national anthem at the NBA All-Star game, celebrities were out in full force to let us know they're really, really sorry.
Let's dive in.
Quincy Jones is sorry for saying Richard Pryor and Marlon Brando had sex
After a pair of candid interviews he gave to Vulture and GQ went viral earlier in February, Quincy Jones apologized to "anyone whom my words offended" in a Thursday morning statement posted on Twitter.
Jones explained that his six daughters, one of whom is actress Rashida Jones, had cornered him for something resembling an unofficial family intervention. The sit-down prompted the 84-year-old producer to realize that "'wordvomit' & bad-mouthing is inexcusable," and he thanked friends and family for "calling me out when I've clearly made a mistake."
As a refresher, the music legend covered a lot of ground in the interviews that landed him in hot water, touching on everything from how badly the Beatles suck ("Paul was the worst bass player I ever heard. And Ringo? Don't even talk about it.") to Marlon Brando's alleged physical relationships with men ("He'd fuck anything. Anything! He'd fuck a mailbox. James Baldwin. Richard Pryor. Marvin Gaye.").
Harvey Weinstein is sorry for name-dropping Meryl Streep and Jennifer Lawrence in an attempt to get a lawsuit dismissed
Harvey Weinstein — the disgraced former Hollywood producer who currently stands accused of sexually assaulting or harassing at least 84 women — is likely to become a perennial fixture on this list. This week, he's in the news for apologizing to actresses Meryl Streep and Jennifer Lawrence after his lawyers entered their names into the public record as part of an attempt to clear his name in an ongoing sexual misconduct lawsuit.
"Mr. Weinstein acknowledges the valuable input both Meryl Streep and Jennifer Lawrence have contributed to this conversation and apologizes," a rep for Weinstein said in a statement to the Hollywood Reporter. "Moving forward, Mr. Weinstein has advised his counsel to not include specific names of former associates and to avoid whenever possible, even if they are in the public record."
Meghan McCain is sorry Joy Behar implied Vice President Mike Pence is mentally ill
The ladies of The View are no stranger to courting controversy, but a recent comment from cohost Joy Behar prompted a public outcry and a swift apology from colleague Meghan McCain.
After Behar said Vice President Mike Pence's belief that Jesus speaks directly to him is tantamount to being mentally ill, ABC — the network that airs The View — was reportedly slammed with complaints from the show's Christian viewers.
"It's one thing to talk to Jesus, it's another thing when Jesus talks to you," Behar said in the controversial clip. "That's called mental illness if I'm not correct. Hearing voices."
The backlash was enough to illicit a response from McCain, the daughter of Republican Sen. John McCain and the show's designated conservative panelist.
"I am a great admirer of Mike Pence and his family. I would like to apologize to him and his family in particular," McCain said. "This is a show where we respect one another and we respect everyone else in the country."
Dinesh D'Souza is sorry for publicly mocking the teenage victims of a school shooting
Conservative filmmaker and propagandist Dinesh D'Souza apologized after he appeared to mock the teenage survivors of a school shooting that killed 17 students and faculty members in Parkland, Florida, in a series of tweets Tuesday.
After Republicans in Florida refused to debate a bill that would restrict certain firearms statewide, D'Souza tweeted, "Adults 1, kids 0."
Apparently annoyed with the politics of the students, who have become some of the nation's most vocal activists for gun control in the wake of the shooting, D'Souza tweeted again: "Worst news since their parents told them to get summer jobs."
In an apology issued Wednesday morning, D'Souza said that while his original tweets were "aimed at media manipulation," they were "insensitive to students who lost friends in a terrible tragedy."
"I'm truly sorry," he wrote.
Fergie is sorry for singing the national anthem that way
After belting out a bizarrely sultry rendition of the national anthem before the start of the NBA All-Star game Sunday, pop singer Fergie apologized to the American people in a statement released Monday.
"I've always been honored and proud to perform the national anthem, and last night I wanted to try something special for the NBA," Fergie said. "I'm a risk taker artistically, but clearly this rendition didn't strike the intended tone. I love this country and honestly tried my best."