While you weren't looking: 5 stories from the Trump administration that aren't about arming teachers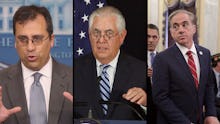 This week's news was once again dominated by coverage of the horrific high school shooting in Parkland, Florida, the relentless activism of young teens and the unprecedented momentum in the long-simmering debate over gun control. That's in addition to the mounting violence in Syria, which barely registered in the news cycle.
But through it all, the Trump administration continued to work behind the scenes to carry out its agenda in ways that were under-reported and under-covered.
Here are some of the big stories you might have missed.
State Department orders scaled-back language on women's rights and discrimination
The U.S. State Department will soon release its annual report on human rights across the globe — but not before it winds back the definition of a few of those rights.
According to Politico, officials at the department have been ordered to pare back language about women's reproductive rights and discrimination; strip entire passages about family planning, access to contraception and abortion; and slash another section dealing with discrimination on the basis of race, ethnicity and sex.
State Department spokesperson Heather Nauert told Politico the department was not "downgrading coverage of LGBT or women's issues," but trying to avoid "duplicating statistics that are readily available from international organizations."
The Trump administration, it seems, believes some human rights abuses don't bear repeating.
USCIS will remove the phrase "nation of immigrants" from its mission statement
U.S. Citizenship and Immigration Services, the lead office in charge of processing immigration into the United States, has removed language referring to the U.S. as a "nation of immigrants" from its mission statement. It also added language about "protecting Americans" and "honoring our values."
The change, first reported by the Intercept, was announced to USCIS staff via an email from USCIS director Lee Francis Cissna.
The previous mission statement defined USCIS as an office which "secures America's promise as a nation of immigrants by providing accurate and useful information to our customers, granting immigration and citizenship benefits, promoting an awareness and understanding of citizenship and ensuring the integrity of our immigration system."
The new mission statement refers to USCIS as an office which "administers the nation's lawful immigration system, safeguarding its integrity and promise by efficiently and fairly adjudicating requests for immigration benefits while protecting Americans, securing the homeland and honoring our values."
In his email to employees, Cissna reportedly wrote that the new statement "clearly defines the agency's role in our country's lawful immigration system and the commitment we have to the American people."
Trump administration opens doors for short-term "junk" health care plans
In his latest attempt to undermine the Affordable Care Act, President Donald Trump issued a proposal Tuesday that would allow the sale of short-term health insurance plans, which some opponents refer to as "junk insurance."
The proposed new rules would allow Americans seeking health insurance to purchase skimpier, cheaper plans without the basic coverage protections required under the ACA.
Industry experts, such as Michael Miller, policy director of consumer advocacy group Community Catalyst told Politico the move could further endanger the ACA marketplace exchanges as more consumers purchase cheap, low-level coverage, therefore removing themselves from the ACA risk pool and raising the price of more robust coverage for those who need it.
The administration predicted that as many as 200,000 Americans would drop their current ACA plans in favor of short-term policies.
Trump's pick to lead Indian Health Service withdraws nomination following scandal
The man Trump tapped to be in charge of health care for 2.2 million Native Americans and Alaska Natives has withdrawn his nomination following questions about his previous work history.
The Wall Street Journal reported in January that Robert Weaver, Trump's choice to lead the Indian Health Service within the Department of Health and Human Services, falsely represented his qualifications to the Senate Committee on Indian Affairs during his October confirmation hearing.
The Trump administration boasted that Weaver, 39, had "nearly two decades of experience in hospital, mental health administration" when he was first selected for the position. Weaver told senators during his confirmation that he had held "supervisory and management positions" at St. John's Regional Medical Center in Joplin, Missouri.
But the Wall Street Journal found that several senior hospital officials whose employment would have overlapped with Weaver's had never heard of him.
A later report from the Journal showed that Weaver had experienced a series of financial troubles and had even filed for personal bankruptcy.
Veterans Affairs secretary says he has Trump's permission to purge his agency following scandal
Veterans Affairs Secretary David Shulkin spent the past week plagued by scandal after it was discovered he had taken a European vacation with his wife on the taxpayer's dime and ordered subordinates to forge email records to cover it up.
Shulkin is now claiming he is the victim of "subversion" from some of his own staffers at the agency and has the White House's permission to make sure those people "won't be working" for the department anymore.
A Feb. 14 report from the Department of Veterans Affairs inspector general alleged that Shulkin misused taxpayer money to bring his wife on a trip to England and Denmark, improperly accepted tickets to Wimbledon as a gift and even invented a fake award to justify his wife's presence on the trip.
According to a report in Politico, Shulkin's new chief of staff, Peter O'Rourke, has been empowered to meet with VA employees "individually and as a group to determine, now that there is a clear direction where we are going, where people are going to stand." Any employee determined to have "crossed the line" will reportedly be held accountable.
Feb. 23, 2018, 6:50 p.m.: This story has been updated.