These are the potential bipartisan agreements on gun control after the Parkland mass shooting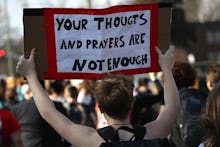 In the wake of the deadly Feb. 14 shooting at a high school in Parkland, Florida, lawmakers in Congress are revisiting the decades-old amendment that effectively bars the government from conducting research into gun violence.
"After every mass shooting, we are cautioned to wait for the facts before we act," Sen. Martin Heinrich (D-N.M.) wrote on Twitter Tuesday. "Because of the Dickey Amendment, we don't have the facts. Repealing the Dickey Amendment should be a no-brainer."
Seven House Democrats have penned a letter to House Speaker Paul Ryan urging the amendment's repeal, and Sen. Ed Markey (D-Mass.) pressed Secretary of Health and Human Services Alex Azar Wednesday on what actions he'll be taking on gun violence research after expressing support for it during a recent congressional hearing.
On the other side of the aisle, Republicans open to the possibility of resuming gun violence research included Sen. Bob Goodlatte (R-Va.), who agreed that lawmakers could revisit the policy in the wake of recent mass shootings, and Rep. Leonard Lance (R-N.J.), who released a statement calling for the amendment to be repealed.
The Dickey Amendment, which was first passed in 1996 and has been renewed every year since, has stymied the government's efforts to research gun violence by mandating that "none of the funds made available for injury prevention and control at the Centers for Disease Control and Prevention may be used to advocate or promote gun control."
Though the provision does not specifically prohibit gun research — as Azar pointed out during the recent hearing — it "sent a clear message" to the CDC and private researchers to not undertake gun violence research, David Hemenway, director of the Harvard Injury Control Research Center, told WJLA.
"There are so many big issues in the world, and the question is: Do you want to do gun research? Because you're going to get attacked. No one is attacking us when we do heart disease," Hemenway told Mother Jones in 2015.
Following the amendment's passage, $2.6 billion in CDC funds that were previously spent on firearm research were redistributed to study traumatic brain injury prevention. The amendment's Republican author, former Rep. Jay Dickey of Arkansas, later went on to regret his legislation, saying that he didn't intend for it to completely stop gun violence research altogether.
"It turned out that [cutting off all gun violence research was] what happened, but it wasn't aimed at that," Dickey said in a 2015 NPR interview about the amendment. "And it wasn't necessary that all research stop. It just couldn't be the collection of data so that they can advocate gun control. That's all we were talking about. But for some reason, it just stopped altogether."
The renewed efforts to repeal the Dickey Amendment are part of a broader congressional push toward gun control reforms in the wake of the Parkland shooting, which left 17 dead.
Though Congress has been historically incapable of taking meaningful legislative action following mass shootings, the renewed focus on gun control legislation and unyielding activism of the shooting's teenage survivors suggest that perhaps some modest legislative progress could now be made. A majority of Americans support Congress taking action; according to a Marist poll released Friday, 71% of Americans, including 58% of gun owners, believe that there should be stricter laws restricting firearm sales.
"There just seems to be a lot more determination to get something done — to finally get something done," Rep. Mike Thompson (D-Calif.) told the Hill. "Maybe it's the organic nature, I'm not sure, but it just feels different. And God knows we need it to be different."
Planned legislation
Though Congress has been out of session this week, several lawmakers have signaled that they are at work crafting new gun control legislation in response to the Florida shooting.
Sen. Jeff Flake (R-Ariz.) tweeted Wednesday that he's working with Democratic Sen. Dianne Feinstein on legislation that would raise the minimum purchasing age for semi-automatic weapons from 18 to 21. The age restriction increase, which has been opposed by the NRA, is also seemingly backed by President Donald Trump, who tweeted in favor of the measure on Thursday.
On Tuesday, Sen. Patrick Toomey (R-Penn.) announced his intention to introduce legislation expanding background checks on firearm purchases. The planned legislation would revive the senator's failed 2013 legislation with Democratic Sen. Joe Manchin, which sought to expand background checks to include unlicensed gun-show dealers and online sales.
"It does feel like we have a shot at getting a little bit of momentum on background checks," Toomey told the Washington Post. "We're going to take a swing at that and I'm hoping we'll be able to do it."
The possible legislation is reportedly one of several proposals that Toomey and his congressional colleagues are currently preparing to introduce, according to the Post. Other planned legislation includes efforts to restrict guns for individuals on the no-fly list and those who do not properly disclose their criminal records when they attempt to purchase a firearm.
Assault weapons ban
Democratic lawmakers have also signaled their support of an assault weapons ban in the wake of the Parkland shooting. Assault weapons, such as the AR-15 rifle, have been legal since a 10-year ban on the firearms expired in 2004.
Feinstein released a statement Thursday that pushed for a hearing on the Assault Weapons Ban of 2017, which she and other Senate Democrats introduced in November. In the House, those speaking out in favor of an assault weapons ban included Hawaii Rep. Colleen Hanabusa and Rep. Mike Thompson of California, who heads the Gun Violence Prevention Task Force.
"I am a gun owner. I support the Second Amendment. I also carried an assault weapon for a tour of duty in Vietnam. I know what they are used for. I know what they are capable of," Thompson said, as quoted by a statement released by Hanabusa. "And, personally, I believe there is no place in a civilized society to have these things. We don't need them. We know the damage that they have done."
There is even some hope that the issue could draw a certain amount of bipartisan support. Florida Rep. Brian Mast penned an op-ed in the New York Times Friday, in which the Republican lawmaker came out in favor of an assault weapons ban.
Bump stocks
Following the Parkland shooting, politicians on both sides of the aisle renewed calls for a ban on bump stocks, the deadly firearm accessory that enables a semi-automatic weapon to mimic the functionality of an automatic one. The device, which was not used in the Parkland shooting, first gained attention after it was used in the October mass shooting at a country music festival in Las Vegas.
Trump called on the Department of Justice Tuesday to propose a regulation that would ban bump stocks and similar devices. The memo continued an ongoing review that the Bureau of Alcohol, Tobacco, Firearms and Explosives has been undertaking into the devices since December, which would determine whether the accessories fit into the law's definition of an automatic weapon and thus allow it to be regulated by the ATF.
The Parkland shooting has also sparked calls for a legislative ban on the devices, as Trump's proposed ATF fix might not be enough. Though Republicans and the National Rifle Association have pushed to regulate bump stocks through the ATF since the Las Vegas shooting, the agency has said repeatedly that it does not have the power to regulate bump stocks under current federal law.
"These accessories DO NOT cause the firearm to shoot more than one shot by the single function of a trigger pull. The notion that ATF chose not to regulate an item it had the authority to regulate is false. The law is very clear and it does not currently allow ATF to regulate such accessories," ATF president Michael R. Bouchard wrote in an October letter to Rep. Carlos Curbelo.
There are currently several pieces of legislation that have been introduced that would either ban or regulate bump stocks. Feinstein introduced a bill in October that would ban the devices completely, while a separate bipartisan bill in the House would require bump stock owners to register with the ATF and undergo a background check.
Fix NICS Act
Perhaps the best chance for congressional gun reform is through the Fix NICS Act, which would strengthen the existing federal background check system.
Flaws in the National Instant Criminal Background Check System, which is missing millions of records detailing criminal convictions that would prevent individuals from purchasing a gun, enabled Devin Kelley, the suspected gunman in a mass shooting at a church in Sutherland Springs, Texas, to purchase a firearm.
Sponsored by Sen. John Cornyn, the legislation would establish a "Domestic Abuse and Violence Prevention Initiative" to better prevent criminals from obtaining weapons, and create new measures to better ensure the accuracy of the NICS's records. The legislation would also impose consequences on those who fail to upload relevant information into the background system, such as publicly reporting agencies and withholding certain pay from political appointees who do not upload the information.
Trump has signaled his support for the legislation in the wake of the Parkland shooting, White House press secretary Sarah Huckabee Sanders noted during a recent press briefing.
"While discussions are ongoing and revisions are being considered, the president is supportive of efforts to improve the federal background check system," she said.
There is concern, however, over what those "revisions" could entail. While the Senate bill currently exists as a standalone bill, the House passed a "Fix NICS" measure as part of a "concealed carry reciprocity" bill in December, which allows gun owners with concealed carry permits to carry their firearms across state lines. In an interview with Slate, Everytown for Gun Safety head John Feinblatt speculated that Sanders' comment could be "code" suggesting Trump and Senate Republicans will push for the Senate bill to be bundled in the same way.
"It would be amazing, in the wake of Parkland, if Congress decides that the best response is to undermine state gun laws," Feinblatt said.
Yet even if the Senate takes up the bill by itself, Sen. Chris Murphy (D-Conn.) emphasized that this modest legislation alone won't fix the gun violence problem, tweeting Monday that "no one should pretend this bill alone is an adequate response to this epidemic."
"We should ban bump stocks and we should pass our Fix NICS Act, but that's not enough," Murphy said in a statement. "Our constituents are begging us to get serious about gun violence, and these small measures are wholly insufficient."